North Macedonia head coach Blagoja Milevski believes England have some of the best players in the world and admits his side need a "miracle" to get a result in their Euro 2024 qualifier at Old Trafford.
England top Group C having won their opening three games and can take a large step to reaching the finals in Germany next summer if they continue that run in Manchester on Monday night.
North Macedonia, meanwhile, let a two-goal lead slip to lose at home to Ukraine on Friday night and Milevski knows things are not about to get easier.
"We shouldn't waste words talking about the quality of this England team," he said.
"Individually or as a team, they are one of the best, have the best players in the world and showed their quality a few days ago.
"On an international level and at club level, if we are talking about English football it is the best in the world and it will be a great pleasure to play against them.
"On one way it is the easiest (game). England is obvious the strongest in our group so there is no pressure on North Macedonia because our players are going to perform their best and – without that pressure – they are going to enjoy competing with England.
Macedonia, as they were known at the time, secured a memorable 0-0 draw at Old Trafford when they last faced England as part of Steve McClaren's ill-fated Euro 2008 qualifying campaign.
Milevski, though, will not be looking at that game as inspiration for his side, who he wants to enjoy the occasion.
He added: "From 2006 – that is 17 years ago now – but now Macedonia show not only in this moment but back for quite a few years that we can be competitive in Europe.
"I don't have to mention what they achieved already in the past, we know that Macedonia has enough strength to be competitive in these qualifiers.
"It is very rare to have this chance to play in front of such a crowd and in such a stadium.
"Just the competition and the league that is played in England is very impressive and as soon as you enter this kind of environment, you don't need any more motivation than that, you have a chance to show the maximum you possess.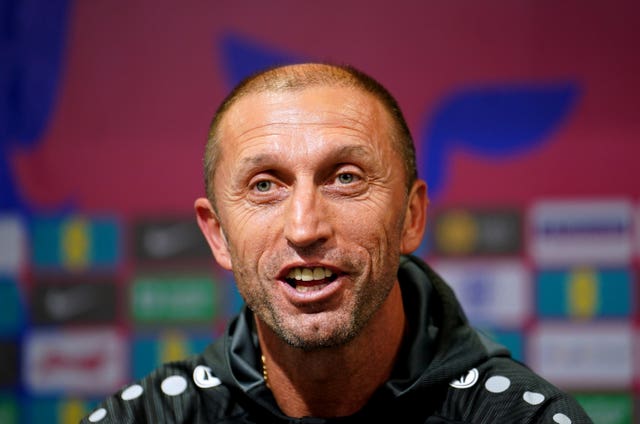 "As far as this competition is concerned, we are such a team that we need to make a miracle, any nervousness we have before the match we are going to forget about it on the pitch.
"This, in front of us tomorrow, maybe happens once or twice in your career as a player and a management team and we need to show we are able to do miracles like we did in other competitions.
"We have shown many times this team has the ability to compete against the biggest international teams and we are going to do our best."