Casemiro believes Manchester United are growing towards being title contenders and says playing for the Old Trafford giants makes him feel like an excited, wide-eyed 15-year-old again.
Having chased Frenkie de Jong and failed to land Adrien Rabiot, the Red Devils pulled off an almighty coup by signing the Brazil international from Real Madrid in the summer.
Some questioned United's decision to pay £60million for a 30-year-old – a fee that could yet rise by £10million – and even the hunger of a player that has won so much.
But Casemiro has so far made doubters look foolish, having put in transformative midfield displays and embraced the challenge of turning the club's fortunes around.
"When you arrive at a new club, you always dream of making history… especially if we see the greatness of this club," the Brazil international said. "We know the history.
"But of course, I was aware of needing some time to adapt and of the rivals having a long-term plan before ours, like Arsenal, Manchester City and Liverpool.
"They all have managers that have been there for a while and, therefore, they have an advantage.
"I'm happy with my adaptation here, my team-mates and the staff are really helping me… also with the English language, it's been quite hard but I'm really trying to get better.
"Everyone here has been lovely with me and since the first day I feel at home here. I appreciate all the effort that the club has done to bring me here, John (Murtough) included.
"I'm very comfortable at Manchester United, extremely happy to be here and enjoying every moment like a 15-year-old kid!
"But the most important is to see the team growing."
Casemiro spoke in Portuguese but understood many of the questions put to him in English after his starring role in Saturday's FA Cup fourth round win against Reading.
The 30-year-old scored a beautiful, delicate second-half opener before firing in a fizzing strike from distance as Erik ten Hag's side cruised through to the next round.
United are still fighting on all four fronts and will surely have a shot at glory in next month's Carabao Cup final as they chase a first trophy since 2017.
"We have to see what the reality is and we are still club under construction," Casemiro said when it was put to him that his decision to join the club at such a low ebb surprised many.
"Of course we are already respected, the opponents know we're strong, that we have good dynamics, the manager is doing a good job, the players as well.
"Manchester United is a big club… in my opinion, if we look at the titles, it's the biggest in England.
"In our lives we have to have goals and challenges. It was a challenge for me to keep growing and developing in my career.
"The job is on with a lot of humility by knowing there's a lot to improve, but all the players need to be congratulated now.
"We're on a good path. This is the way to win titles, but we need to keep growing.
"We know we're progressing within a plan, step by step we're building a well-structured team and this is important.
"To win titles in the future, you have to build a solid foundation."
Casemiro grinned as he spoke about his first brace in three years after a 3-1 victory against 10-man Reading that compatriot Fred scored an audacious flick.
There was a third Brazilian star in the United ranks, with Antony named man of the match and celebrated by Casemiro on the pitch after his outstanding assist for the opener.
"Every goal that we score is a result of a collective effort," the experienced midfielder added.
"Every goal we concede is a collective consequence, there's no individual error in this squad, we're together.
"On my first goal, Antony's pass was incredible. I know that people focus on who scored, but I wanted to give him a bit of love as the pass was magic. He's an important player for us."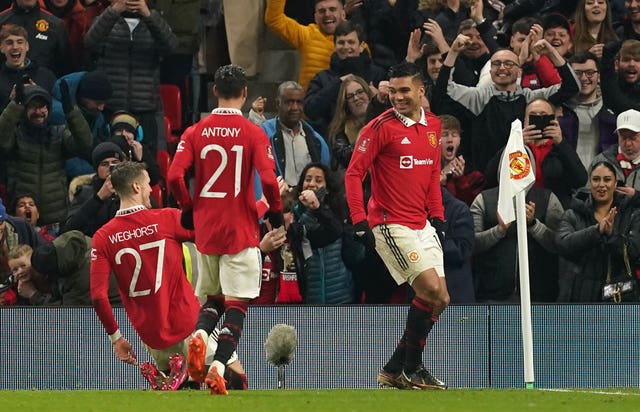 United now focus on wrapping up their place in the Carabao Cup final, with Ten Hag's side hosting Nottingham Forest in Wednesday's semi-final second leg leading 3-0.
As for Reading, it is back to Sky Bet Championship action for Paul Ince's men after a decent Old Trafford showing.
"We were solid, we did the right things and they (the fans) can feel proud of us tonight," the Royals boss said.
"And I said to the players that they've got to give the fans that every game."