Mikel Arteta has welcomed Gabriel Jesus back into the Arsenal fold but now he admits fellow striker Eddie Nketiah faces a "big challenge" to return from an ankle injury.
The Gunners maintained a five-point lead at the top of the Premier League table despite the fact they had no recognised striker with both Jesus and Nketiah crocked.
Jesus underwent knee surgery after getting injured at the World Cup, with Nketiah scoring six goals in 12 games before he too was ruled out, having suffered an ankle problem in the 4-0 win over Everton on March 1.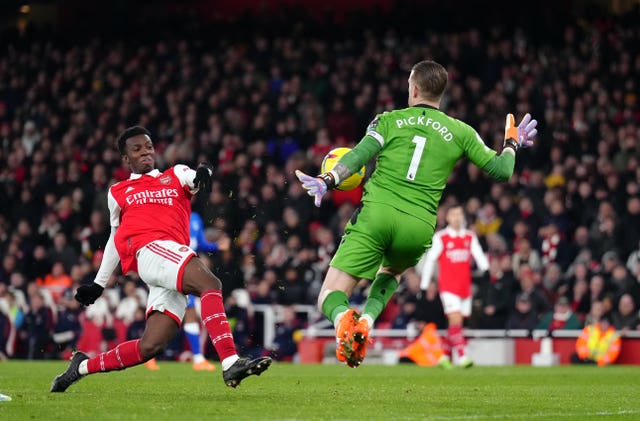 "He's getting better," Arteta said when asked for a prognosis on Nketiah.
"He's still in the boot. He's still a few weeks away and we need to be patient. It was a nasty injury and he has a big challenge ahead of him.
"Thank God it could have been worse. So he's not in a bad place."
Jesus returned from the bench in the weekend win over Fulham but will not be rushed back into the team, especially with Gabriel Martinelli and Leandro Trossard starring for the league leaders.
"It was great to see him back – you can feel the happiness of everyone," Arteta said on Jesus' comeback.
"We missed him and now he's back. We have to manage his minutes, his involvement in the squad and the team.
"He's feeling good and every day he's training he says his sensations are better and better, so that's really positive."
Jesus could yet come into the starting line-up for Thursday's Europa League last-16 second-leg clash with Sporting.
The tie is finely-poised following a 2-2 draw in Lisbon last week and, despite going all out to win the title, Arteta is not about to throw away the chance to lift a European trophy.
Asked if the Europa League was a distraction as they battle at the top of the table, he replied: "No.
"We haven't had big European nights for three years. Due to Covid especially.
"Tomorrow is the first one for a while. Hopefully we will build a big atmosphere and enjoy with our supporters against a really good team that is going to put a big challenge in front of us."