Sarina Wiegman praised first-time England goalscorer Lauren James after the 4-0 win over South Korea at Stadium MK – and criticised the "unacceptable" playing surface at the ground.
Opening their defence of the Arnold Clark Cup, the European champions went in front in the 40th minute via a Georgia Stanway penalty won by James, moments after Alessia Russo had hit a shot against a post.
Chloe Kelly and Russo then scored in quick succession soon after the break before James capped her player-of-the match performance by notching her first England goal, the 21-year-old striking past Kim Jung-mi in the 78th minute.
Having built her fitness and had limited minutes for Chelsea last season following her move from Manchester United, James has shone for the Blues this term, while the first of her six England caps came last August.
Lionesses boss Wiegman said of the forward: "She's very tight on the ball and can dribble really well too.
"Last season she didn't play a lot, she was still building. This year she's playing more and more and a lot now in the latest time. She feels good, you can tell, she plays really well.
"I think she has been a talent of course for a long time, she just needed to be available and needed some time at Chelsea. I think she worked really hard at Chelsea, that's what you can see this season at Chelsea, then she can take the next step to the national team. I hope now she gets consistency, stays fit and keeps enjoying herself."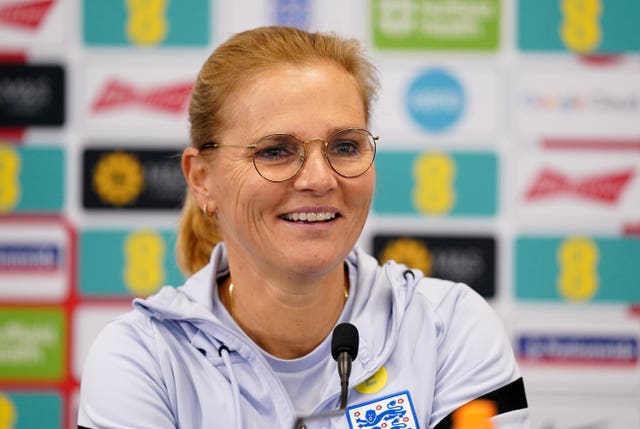 Wiegman was also keen to stress, five months out from the start of the World Cup in Australia and New Zealand, that "we have more players that are really good", adding: "I think the squad has lots of depth.
"In those positions up front, there's lots of competition. I can't complain about the depth of this team, let's put it this way. I don't like to have headaches – but in this case I do."
Something Wiegman definitely did not like was the state of the pitch in Milton Keynes, on which Belgium had earlier beaten Italy 2-1 in the opening match of the four-team round-robin competition.
She said: "I think we played really well against a very defensive South Korea. And on this very hard pitch – it was a horrible pitch – I think it's even harder to keep up the speed. Sometimes just the ball bounced, on several occasions. So I think we did really well.
"I think this pitch was unacceptable. This stadium is really nice, it's very nice to be in it, but this pitch, we can't play on a pitch like this any more, at this level. It's just really unacceptable."
England – who also hit the woodwork three times in the match, and are now unbeaten in 27 games under Wiegman, with 23 wins – continue their Arnold Clark Cup campaign by facing Italy in Coventry on Sunday.
Wiegman's side were taking on a South Korea outfit ranked 11 places below them at 15th in the world.
They are managed by Englishman Colin Bell, who said: "For me England are the best team in the world at the moment.
"We knew it was going to be really difficult. We normally play a high press, offensively, but today we had to choose basically almost the catenaccio, Italian way of parking three or four buses, and I think the first half we did reasonably well.
"I don't personally think it was a penalty, but OK, the referee gave it. Then the first three or four minutes (of the second half) you concede two goals and then the game obviously is a really, really difficult ask. Credit to the players, they kept trying, but it was wave after wave of attacks."