Erik ten Hag said Manchester United will give everything they have to prevent Manchester City from completing the treble when they meet in the FA Cup final.
United beat Brighton on penalties after a goalless draw at Wembley to progress to May's showpiece against their rivals.
Solly March missed the vital kick for Roberto De Zerbi's team after both sides converted their first six penalties, as United booked their second domestic final of the season following their Carabao Cup win in February.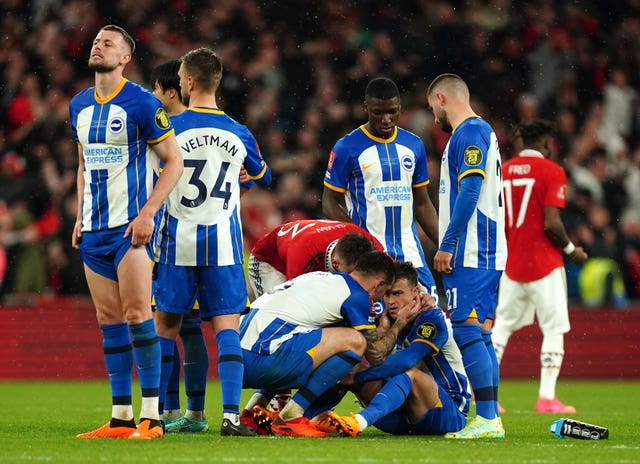 By then Pep Guardiola's team could already have wrapped up the Premier League title and won through to the Champions League final, though they still have the matter of navigating past holders Real Madrid in the last four.
City trail Arsenal in the league by five points but have two games in hand plus they host the Gunners at the Etihad Stadium on Wednesday.
United are the only English side to have completed a League, FA Cup and Champions League treble, under Sir Alex Ferguson in 1999, and Ten Hag said fans can have no doubt his side will throw everything at their great rivals to keep it that way.
"I understand, of course, the feelings from the Man United fans about it," said Ten Hag. "We will do everything to give them that, to give them the second trophy; everything what I have, everything the team have, the staff have.
"We will give everything to get it done. We can do it because we prove it. It's not easy though, it's a great team, but we also have a great team and great players. We can beat them.
"We will give everything and when I say everything, that is everything, more than 100 per cent you can't do. So the fans can rely on that – that we will give it and do it against every opponent.
"But of course we want to give that against City, we want to give the fans that, for sure."
United beat City 2-1 at Old Trafford when the sides met in the league in January but it will be the first time the FA Cup final has seen a Manchester derby.
By the time of the meeting back at Wembley on June 3, Ten Hag's side will hope to have secured their place in the Champions League for next season.
They currently sit fourth with a six-point gap to Tottenham in fifth, having played two games fewer, following Spurs' heavy defeat to Newcastle on Sunday.
"We are proof, proof that we could beat them but then we have to play the perfect game," he said. "I think that was the perfect game we played this season but we have to go again.
"We know that but first of all we have to focus on different occasions, different games to be in the top four to get into the Champions League next season.
"It's not for me, it's not about that. I want to win every game, doesn't matter who is the opponent.
"Brighton, I have to give them a lot of credit, it's a great team, really good philosophy of football and that made it a great game for the neutral fan. For all the fans in the stadium, I think it was a great game to watch."
Brighton boss De Zerbi felt his side deserved victory against United and a first FA Cup final appearance since 1983.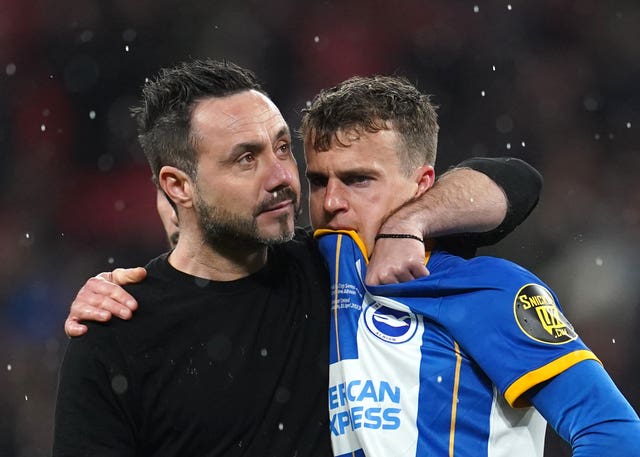 Their focus now turns to trying to secure their highest-ever top-flight finish and a first season in Europe.
"I think we deserved to win, because we played better and had more chances to score," said De Zerbi.
"We suffered in the middle of the second half, but for the other part of the game we commanded the play.
"They (the players) are focused only on our target in the Premier League. We are playing well, we deserve to reach our target of Europe, but football can be cruel."