AC Milan defender Fikayo Tomori wants to do his talking on the pitch as he targets a possible England recall.
The former Chelsea centre-half put in a man-of-the-match performance as the Serie A side sent Tottenham crashing out of the Champions League, with their goalless draw in north London enough to earn a 1-0 aggregate win in the last 16.
Tomori and his team-mates kept Harry Kane, Son Heung-min, Dejan Kulusevski and Richarlison quiet as they booked a quarter-final spot with ease, and his performance is sure to make England boss Gareth Southgate sit up and take notice ahead of next week's squad announcement for the forthcoming Euro 2024 qualifiers.
The 25-year-old has admitted he was disappointed at being overlooked for the World Cup squad and wants to continue performing well for Milan.
"This season at times I haven't really done what I wanted to in terms of performances," he said. "As a team we are not in the same position as last season, but obviously Napoli are having a great season.
"Nights like this for me personally and for the team we can build on and we have demonstrated how well we can play.
"Not only to outsiders but to ourselves as well. It is something to build on.
"But honestly I haven't really been thinking about England. I have just been thinking about training every day as well as I can, trying to keep my levels as high as possible. Yeah, just trying to focus on playing well. Whatever happens with the national team happens.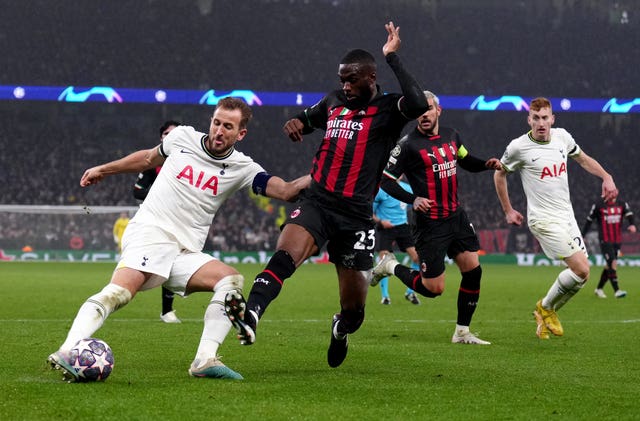 "I always try to do my best. There was a disappointment not going to the World Cup but that's football, sometimes it happens. You just have to move on.
"Nights like this, after the work we have done the whole season at Milan, this is what I play football for. Honestly, day-to-day I am not thinking about the national team, whenever that happens then it's on your mind because you're thinking about it.
"But I am focused on Milan and what I am doing day-to-day and trying to replicate what I am doing and go past the levels I have reached."
After 16 years at Chelsea, Tomori swapped England for Italy in 2021 and was rewarded with the Serie A title.
He has got to work closely with Paolo Maldini and says the experience of playing in Italy has helped him grow.
"Before I arrived in Milan I knew it was a big club but since being there and seeing how the fans are, they are so passionate about the team. All through Italy they are the same," he said.
"Different style and different language, those type of things play a part. It has been a great learning experience for me because throughout my whole time in England learning a certain type of way and then coming here and learning a different type of football.
"Working with Paolo and all the other great players who have been here, I have just tried to take as much as I can. It is not easy because it is very different to England but I am loving every minute of it."