Kevin De Bruyne does not believe Manchester City are favourites to beat Inter Milan in the Champions League final and secure the win they need to complete the treble.
City are well fancied to beat the Serie A side on Saturday in Istanbul and become the first English club to win all three major trophies in a single season since Manchester United in 1999.
They moved a step closer on Saturday by adding the FA Cup to the Premier League title already won, with Ilkay Gundogan's goals helping Pep Guardiola's side to a 2-1 victory against United at Wembley.
Until now Guardiola and his players have largely sidestepped any talk of matching their city rivals' feat of 24 years ago.
But after the cup final victory, De Bruyne acknowledged how close he and his team-mates were to a remarkable achievement, yet stopped short of saying they were favourites to beat Inter.
"There was belief anyway but there was no point talking about it before," he said. "We know now. I want to win the Champions League and I want to win the treble but we were getting ready to win this game (against United).
"We deserved to win. I am very happy and very proud. We should enjoy next week and hopefully we can perform the best we can.
"Inter are a very good team. Finals are 50-50. We were favourites today. It is always difficult. You have to manage these moments. There will be moments when it is tough but in the big moments we try to do our job.
"Inter have great players and we have respect for them. They haven't got to the final by beating easy teams."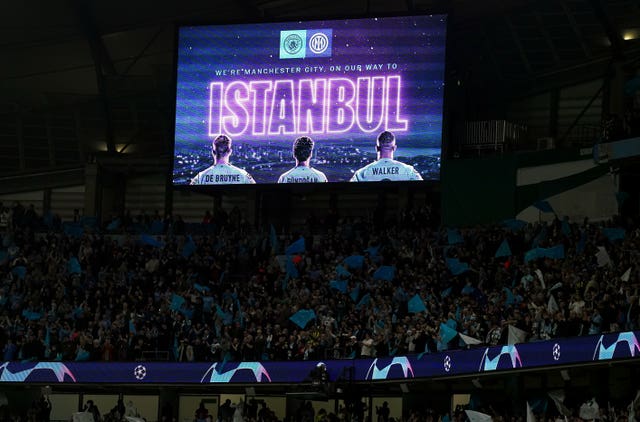 De Bruyne will be looking to exorcise personal demons from the last time he played in a Champions League final, fracturing an eye socket and breaking his nose as City went down 1-0 against Chelsea in an all-Premier League final in Porto.
"That is football," he said. "I have never broken anything in my life and I come out of the Champions League final with a broken nose, a broken eye socket and concussion.
"It happens. There is nothing more I can do. I wished it was better but it wasn't."
Guardiola's team were knocked out in the last four by Real Madrid last season despite holding a two-goal aggregate lead going into the final moments of the second leg.
The Champions League is the only major honour that still eludes the club, with Guardiola not having lifted the trophy since his second triumph with Barcelona in 2011.
Asked if he believed City were finally ready to take the next step in Europe, De Bruyne said: "I can answer that question next week.
"I don't see it that way. We have performed really well. We have been in so many quarter and semi-finals and two finals. We have been there most of the time.
"Depends who you ask (whether City need to win in Europe to earn recognition). Most of the guys have been incredible anyway. Will it help, yes.
"But one 90 minutes doesn't define a career. I am on around 700 games. One 90 minutes out of 700 doesn't define my career. But obviously it helps."