Harry Kane will not set a target on how many England goals he will score by the time he hangs up his boots after becoming his country's all-time leading marksman.
The England skipper banished the ghost of his World Cup penalty miss in the quarter-final defeat to France as he tucked home his 54th international goal from the spot in a 2-1 Euro 2024 qualifying win in Italy.
Kane overtakes former captain Wayne Rooney at the top of England's scoring charts, needing just 81 caps to do so.
But he has no plans to set a final figure in his mind as he revealed he feels fitter than he has at any point in his career.
"I don't like to look too far ahead because a lot can happen in football," he said.
"But I'm 29, I'm feeling fit and I'm feeling strong. I'm feeling probably the best I've felt in my career so far. So I hope I have many more years.
"Playing for England is probably my greatest feeling in football and I want to do it for as long as possible. As a striker I want to score in every game. But now it's time to get ready for Sunday (Ukraine at Wembley) because we have to make sure we win that now and make sure it's a really good camp. Hopefully many more [goals]."
Kane hailed a "magical moment" after his record-breaking goal proved to be the difference on a memorable night for England in Naples.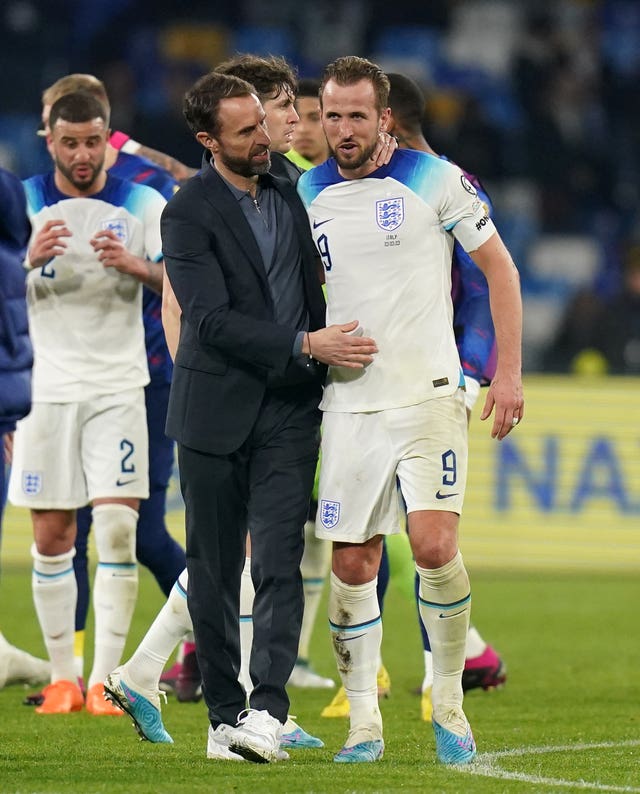 "It means everything," he said. "We were so excited to put the England shirt back on and get back out here and get the campaign started for the Euros next year.
"This has been a really special night for me personally and a really special night for the team. It's the first time that England have won in Italy for a long, long time and to be part of that is amazing.
"I want to also say a big thank you to my team-mates, to the staff, the fans, my family back home and my wife.
"It's a really special night and one that I'll never forget and I'm just so proud. And to everyone in here, thank you to everyone who has made this dream come alive.
"Breaking the goalscoring record is always going to be a huge thing, but the circumstances – when you win and when England haven't won here for such a long time. Amazing, amazing night.
"It had to be a penalty. I had a feeling it would be. But that's why you practise, why you keep your head down and you work hard, for those moments. I prepared well for it and it went well."
Kane also hailed the role England manager Gareth Southgate has played in him going on to break Rooney's record, revealing what the boss said to him on the pitch at full-time.
"He just said that he was extremely proud of me and that I deserve it," added the Tottenham striker. "A big thank you to Gareth. My England journey started with Roy (Hodgson), but Gareth has been a huge part of it since 2018.
"Of course we haven't quite achieved what we want to, but I think tonight was a big statement after the disappointment of the World Cup and for huge spells of the game we played really well, which shows what type of team we want to be."
Rooney, who had held the record since 2015, was among the first to congratulate Kane on social media.
The 53-goal hitman said on Twitter: "Congratulations to Harry Kane on becoming England's all-time leading goalscorer. I knew it wouldn't take long but that was quick! Great man, unbelievable goalscorer and an England legend."