Rafael Benitez and Eddie Howe have led the tributes to Christian Atsu, who has died following the devastating earthquake that hit Turkey and Syria.
Former Newcastle midfielder Atsu's death was announced on Twitter by his agent Nana Sechere, who said the player's body has been found 12 days on from the disaster, which has claimed more than 40,000 lives.
Former Newcastle manager Rafael Benitez, who spent just over three years in charge at St James' Park until 2019, said he had been in contact with his former player last month.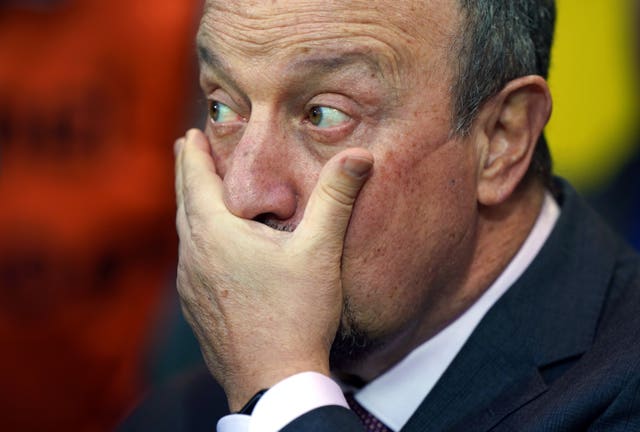 Benitez told Sky Sports: "I was in contact with him last month. We were sharing some messages – it's very difficult for me to express in English – but I was feeling so bad and I was trying to contact him.
"Also, I don't want to forget the rest of the people because there are a lot of people that have been in a really difficult time and I think we have to help in a way and today we have to remember Christian. Really sad."
Benitez added: "It's really sad because he was a nice, nice, special person. He was a good professional. I don't talk about if he's a good player or not, he was a nice lad and a good player, but especially a really nice person.
"So a special person and everybody always, you can see the pictures, always with a smile playing or not playing."
Current Newcastle boss Eddie Howe said before his side's home Premier League game against Liverpool that his thoughts and prayers were with Atsu.
Howe told Sky Sports: "We're treating it as the tragedy that it is, giving him our thoughts and our prayers and to his family as well. We want to support them in this moment."
Atsu spent nearly five years at Newcastle after joining from Chelsea, initially on loan, in 2016 and his ex-team-mate Allan Saint-Maximin described him as "a great person".
Saint-Maximin told Sky Sports: "It's hard to explain. I'm not going to lie, I'd never seen a guy like that before when I arrived at Newcastle.
"Even if we played the same position, he was always giving me advice, always. He was a very nice guy, always joking and smiling, when he played or didn't play.
"He was a great person, so that's why it's sad for me, especially as I knew him, but I will do my best to think about that and take that into the game and play as well as possible."
Atsu's death was announced by his agent Sechere in a post published earlier on Saturday.
"It is with the heaviest of hearts that I have to announce to all well wishers that sadly Christian Atsu's body was recovered this morning," said Sechere.
"My deepest condolences go to his family and loved ones. I would like to take this opportunity to thank everyone for their prayers and support.
"I ask that whilst we make the necessary arrangements, that everyone would please respect the privacy of the family during this very difficult time."
Ghana international Atsu, who was 31, had been playing for Turkish Super Lig side Hatayspor.
He made 121 appearances for Newcastle and was part of the team which won promotion back to the Premier League in 2017 before leaving the club four years later.
In a message posted to Twitter, Newcastle said: "We are profoundly saddened to learn that Christian Atsu has tragically lost his life in Turkey's devastating earthquakes.
"A talented player and a special person, he will always be fondly remembered by our players, staff and supporters. Rest in peace, Christian."
Atsu also had loan spells at Everton and Bournemouth while contracted to Chelsea.
The Blues tweeted: "Everyone at Chelsea Football Club is devastated to learn of the tragic passing of our former player, Christian Atsu. Our thoughts go out to his family and friends."
Former Chelsea captain John Terry tweeted a picture of Atsu alongside the message: "RIP my friend."
Atsu played 13 times for Everton during a season-long loan with the Merseyside club in 2014-2015.
"We are deeply saddened by today's news that Christian Atsu has been found dead following the earthquake in Turkey earlier this month," said the Goodison Park club on Twitter.
"Our thoughts are with his family, friends, colleagues at @Hatayspor_FK and everyone affected by this tragic event that has claimed so many lives."