Gareth Bale must rank as British football's greatest-ever export.
Five Champions League titles at Real Madrid – the same number of European football's biggest prize that Barcelona have managed in their history and two more than Manchester United – three FIFA Club World Cups and over 100 goals for the Spanish giants.
Yet that was not the driving force of a career that saw a supposedly-cursed left-back turn into one of the best forwards of his generation.
"The dragon on my shirt; that's all I need," Bale stated during Wales' intoxicating march to the semi-finals of Euro 2016.
Wales was where it was at for Bale, the Cardiff boy who had first gone to the Millennium Stadium with his father Frank as a 10-year-old to watch his idol Ryan Giggs play.
Bale was eligible to play for England through a grandparental qualification, but brutally rejected the idea.
He told his agent Jonathan Barnett, who had raised the issue, that he would seek new advisors if the question was ever put him to again.
John Charles, who had ploughed his own furrow abroad in Italy during the late 1950s and early 1960s, was considered Wales' greatest ever men's player, being both a commanding centre-half and fearsome centre-forward.
Bale would challenge that view during a Wales career stretching over 16 years: he would score a record 41 goals, make an unmatched 111 appearances and inspire his country to two European Championships and a World Cup.
Dropping out of Team GB's 2012 Olympics squad and laughing behind a flag saying 'Wales. Golf. Madrid – In That Order' after Euro 2020 qualification had been secured, supported the belief that nothing mattered more to Bale than his country.
Football's riches – both in the bank and on the pitch – were not guaranteed when Bale started making the journey from Cardiff to Southampton's satellite academy in Bath as a nine-year-old.
A contemporary of future Wales and British and Irish Lions rugby captain Sam Warburton at Whitchurch High School, Bale had excelled at athletics and ran the 100 metres in 11.4 seconds at the age of 14.
But Bale, hindered by a growth spurt when he grew almost eight inches in 18 months, took time to impress in the Southampton academy and some there wondered whether he would fulfil his potential.
Bale, however, came through that and on April 17, 2006 became the second youngest player ever to play for Southampton.
Six weeks later he became Wales' youngest player at the age of 16 years and 315 days when he came on as a substitute in a 2-1 friendly win against Trinidad and Tobago.
Manchester United manager Sir Alex Ferguson was an admirer and contemplated a bid for the teenager, but Bale joined Tottenham on a four-year deal in May 2007 with Spurs paying £7million for his services.
Again it was far from plain sailing. Injuries and managerial changes at White Hart Lane stunted his development and Spurs did not win a Premier League game in his first 24 appearances.
There was speculation that Bale would be loaned out, but he soon began to show his potential and hit new heights in a Champions League tie against Inter Milan in October 2010.
Bale destroyed Brazil full-back Maicon to score his first senior hat-trick against the European champions at the San Siro.
Ten-man Spurs, who had goalkeeper Heurelho Gomes sent off in the eighth minute, lost the match 4-3 but it was the night a star was born and the phrase 'Taxi for Maicon' entered football's lexicon.
Bale repeated his man-of-the-match performance in Spurs' 3-1 second-leg win and his stratospheric rise saw him named PFA Players' Player of the Year in 2011 and 2013 – just the fifth player to win the award twice at that point.
He was also named PFA Young Player of the Year and the Football Writers' Footballer of the Year in 2013.
After scoring 31 goals for club and country in the 2012-13 season, it was clear that Spurs would struggle to keep Bale – and Real Madrid paid a world record fee of £85.3m to sign him on September 1, 2013.
Bale's spell at Real could be split into two halves: he burned brightly at first in a breathtaking BBC strikeforce – Bale, (Karim) Benzema and Cristiano (Ronaldo).
He scored an incredible 2014 Copa del Rey final winner against Barcelona, running from the halfway line and off the pitch at one point, and put Real ahead in their Champions League final victory over neighbours Atletico later that season.
The trophies came thick and fast and so did the goals – Bale eventually ended with 106 in a Real shirt – and he won his third Champions League crown in his home city in 2017.
The high point of Bale's club career came in May 2018 when he scored twice in the 3-1 Champions League final victory over Liverpool.
Bale's first goal – which gave Real a 2-1 lead – was an overhead kick from the edge of the 18-yard box, regarded as one of the greatest goals in Champions League history.
But Bale's record of missing games was already consternation in the Spanish capital, where he was accused of being more interested in playing for Wales than Real.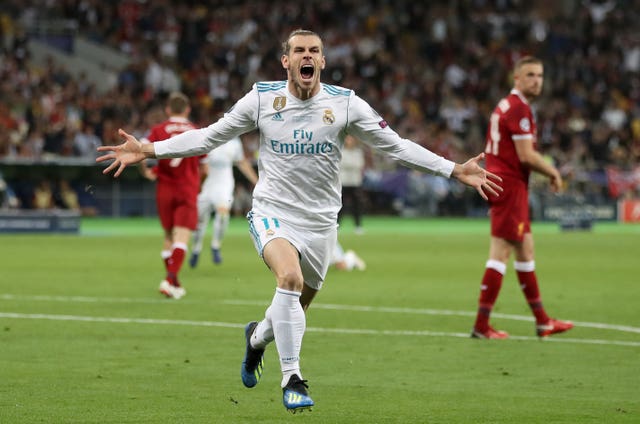 Bale returned to Tottenham on loan for the 2020-21 campaign but it was another injury-hit season and he rarely featured in his final year at Real – although he did win a fifth Champions League winners' medal from the bench.
He signed to Los Angeles FC in June 2022 but he started only two MLS games and was a shadow of his former self as Wales returned to the World Cup stage in Qatar after a 64-year absence.
Bale did manage a World Cup goal, scoring from the penalty spot against the United States, but his thrilling race was finally over.