Gareth Southgate does not plan to rest key players for June's straightforward-looking qualifiers and warned England's quest for Euro 2024 glory will be in "trouble" if focus or commitment wavers.
The journey to next summer's finals in Germany got off to a dream start with last Thursday's 2-1 victory against reigning European champions Italy in Naples.
Three days later England comfortably beat Ukraine 2-0 at Wembley, meaning they took maximum points from the hardest double-header in a group completed by North Macedonia and Malta.
The Euro 2020 runners-up will be expected to record another six-point haul when they face the latter nations in the summer, but Southgate will not allow complacency to seep in.
"I would expect everyone would want to be here and want to be a part of it," the England boss said of June's Group G games away in Malta and against North Macedonia at Old Trafford.
"We'll of course look to psychologically refresh the group by giving them some time off at the end of the season.
"But if we start to think that we haven't got to turn up for games in June because the world ranking of the opponents isn't as high as the two opponents we've had now, then we are in trouble, really.
"That's not the approach we'll be looking for and I don't think the mentality of the team (is like that).
"We're challenging the team to be the best in Europe in the next 13 months.
"That requires everybody's commitment, that requires everybody to be prepared to play whenever and that requires the standards of training every day and everything we do to be at the highest level no matter who we're playing against."
Southgate stuck with the tried and tested for this month's tough matches, but the fixtures against Malta and North Macedonia look an opportune moment to rest some and experiment.
England's opponents are ranked 167th and 65th in the world, respectively, and players are coming off a frantic, unprecedented season given the winter World Cup.
"I think we should always pick our strongest possible squad," Southgate said. "We're representing England. Caps have to be earned.
"Harry Kane won't want to miss England matches in the summer – I'll tell you that now.
"I think there's physical freshness and there's psychological freshness and I think psychological is key.
"They'll get a break before they come and we've talked with them about that to make that work in the best possible way. I think if we don't select certain players it sends the wrong message to the group.
"Then what's to stop others pulling out? And you could end up with a shambles pretty quickly."
The qualifier in Malta comes three days after a new play called 'Dear England' opens at the National Theatre about nation and game, with Hollywood actor Joseph Fiennes playing Southgate.
"That's generous casting! I don't know what to make of it really," he said. "No, I won't be going to watch it. It wouldn't feel right."
Self-deprecating Southgate's only focus is on progress and development, with players like Borussia Dortmund midfielder Jude Bellingham key in his decision to stay on after Qatar.
The 19-year-old this month produced another pair of England performances that belied his tender years and featuring in both of June's matches would mean he won 26 senior caps before turning 20.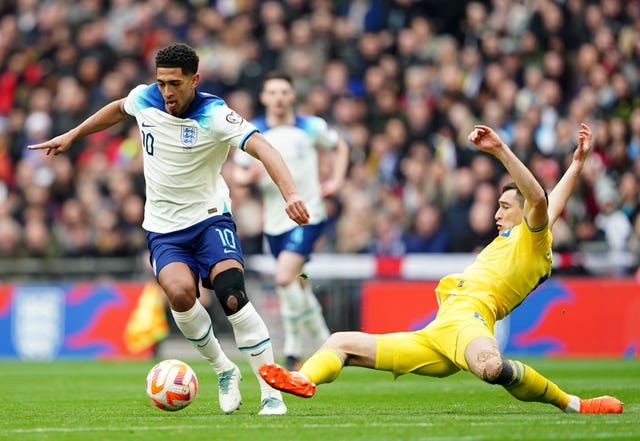 Asked if he had seen another teenager with the maturity of Bellingham, whose birthday is on June 29, Southgate said: "Maybe (Wayne) Rooney.
"I remember one of his first games against Turkey at the Stadium of Light with the intelligence of where he was on the pitch. But in terms of personality and how he carries himself, Jude is in that bracket, really.
"The nice thing about him and Bukayo (Saka, 21) is they have that tremendous humility. They are totally reliable boys who want to improve. They are happy to be challenged.
"I said to the players after the game 'I love being part of this team' because they are exceptional to work with."
Bellingham and Saka are shoo-ins for June's squad if fit, but Ivan Toney's status is unclear given a potential lengthy ban looms.
The 27-year-old striker, who made his England debut off the bench against Ukraine, has been charged with 262 breaches of the Football Association's gambling rules.
"I only know what I've read," Southgate said. "Whether he has admitted anything or not, I've not had that conversation with him because, for me, until I am instructed that there is a ban – if there is to be one – then he's eligible for selection.
"Otherwise, I'm interfering with the process. And whatever happens, there will be life after that – if that happens.
"We have felt he has earned the right to be with us and I think it was important to know that we weren't going to pre-judge anything. He deserves to play and he was with us on merit."