England boss Gareth Southgate confirmed Manchester City's treble winners are available to face Malta, but he is yet to decide if they will play.
Jack Grealish, Phil Foden, Kyle Walker, John Stones and Kalvin Phillips only linked up with the squad on Tuesday after Manchester City completed the treble by beating Inter Milan 1-0 in the Champions League final on Saturday.
Grealish's celebrations have made the headlines, but Southgate is happy to consider the group for selection for Friday's Euro 2024 qualifier.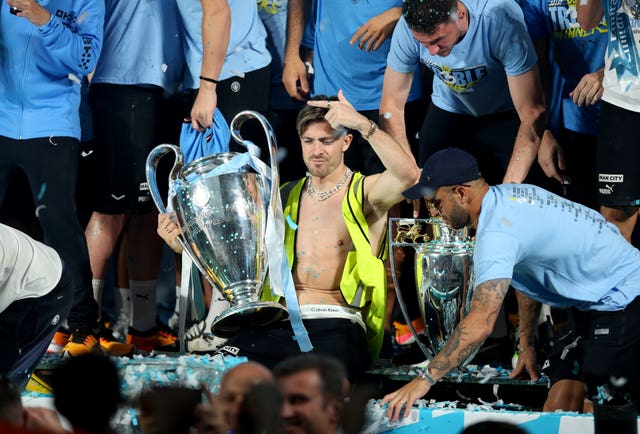 "We are going to have to take it bit by bit and see how they are," he said. "They are all available for tomorrow but I've yet to decide if that's a good decision.
"I spoke to them when they arrived, firstly to say what an incredible achievement. We said we are heading into the unknown, there is no way of knowing individually how they are going to react and respond to what they've been through.
"Everybody is fit. We have got a lot of considerations, particularly the boys who arrived later and are coming off the back of a massive emotional high with the game at the weekend.
"It's always complicated, the decisions you have to make. The team has trained really well, the focus has been excellent and we are looking forward to the game."
Southgate continued: "I'm always monitoring everything the players do, wherever they are. We are used to dealing with the Champions League scenario. It was more complicated when Tottenham played Liverpool (in 2019) because we were into the Nations League semi-final three days later.
"We're used to dealing with it, we know our players inside out. Our focus is on the team now. I've said to the players I have to push them. I have to push the players to get the results we need.
"The responsibility lies with them, they have to drive the team and get the performance we want."