Gregg Berhalter will not take charge of the USA's training camp in California later this month amid an ongoing US Soccer investigation after he admitted kicking his wife of 25 years during an argument as a teenager.
The governing body instigated the probe after Berhalter, who took his side to the World Cup in Qatar, revealed he had been the subject of a threat to expose the incident involving his then girlfriend Rosalind in 1991 during the tournament.
US Soccer has also widened the inquiry to examine "potential inappropriate behaviour" towards staff members from outside the organisation.
Berhalter's future as men's team coach is currently under review with his existing contract having expired and Anthony Hudson will serve as head coach for their training camp in Los Angeles.
"With the ongoing investigation and US Soccer's full review of the USMNT program following the conclusion of the 2022 FIFA World Cup still underway, Hudson will be joined in Los Angeles by fellow World Cup assistant coach BJ Callaghan and Under-20 men's youth national team head coach Mikey Varas in selecting and managing the roster for the friendlies against Serbia and Colombia," a US Soccer statement read.
"In the past, the customary review of the past four years of the entire program following a World Cup would begin in the summer, well ahead of any year-end contract expiration.
"The unique November-December timing of the 2022 FIFA World Cup in Qatar significantly reduced the amount of time that the Federation would have to conduct a proper assessment prior to the end of the head coach's contract."
Berhalter, a college freshman at the time, went public over the incident with a statement released via an unverified Twitter account on Tuesday, later confirmed to the PA news agency as genuine by US Soccer, and co-signed by his wife.
In it, he said: "One night, while out drinking at a local bar, Rosalind and I had a heated argument that continued outside. It became physical and I kicked her in the legs.
"There are zero excuses for my actions that night; it was a shameful moment and one that I regret to this day.
"At that time, I immediately apologized to Rosalind, but understandably, she wanted nothing to do with me."
The couple resolved their differences seven months later and recently celebrated their 25th wedding anniversary.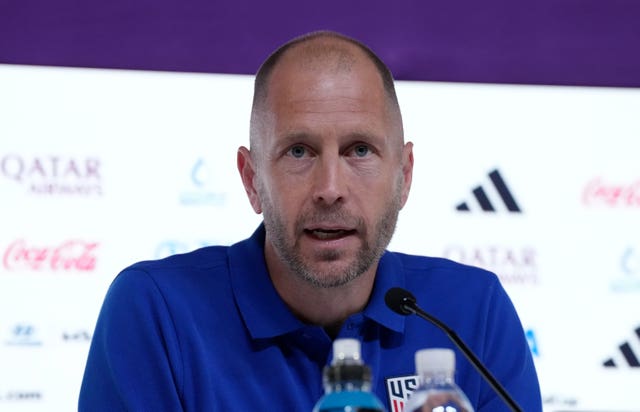 Commenting on the widened investigation, US Soccer said in a statement on Tuesday: "Through this process, US Soccer has learned about potential inappropriate behaviour towards multiple members of our staff by individuals outside of our organisation.
"We take such behaviour seriously and have expanded our investigation to include those allegations.
"We appreciate Gregg and Rosalind coming forward to speak openly about this incident. Consistent with our commitment to transparency, we will share the results of the investigation publicly when it is complete.
"US Soccer condemns violence of any kind and takes such allegations very seriously."