Manchester City emulated Manchester United's 1999 trophy treble with victory in the Champions League final against Inter Milan.
Here, the PA news agency looks at how this season's City side compares to United's celebrated group.
Team performance
United lost only three games in their treble-winning season but a remarkable 21 draws in 57 games across the three competitions in question sees City overshadow them in most other statistical categories.
Excluding the League Cup from both teams' records, Pep Guardiola's side have 42 wins (73.7 per cent) to United's 33 (57.9 per cent), 145 goals to 121 and 26 clean sheets to 20.
They conceded only 39 goals to their predecessors' 56, scoring an average of 2.54 per game and conceding 0.68 compared to 2.12 against 0.98 for United.
City have also scored four goals or more on 16 occasions, 28.1 per cent of their matches and twice as many as that United side – and they have an unsurprising advantage when the two teams' top scorers are compared…
Player stats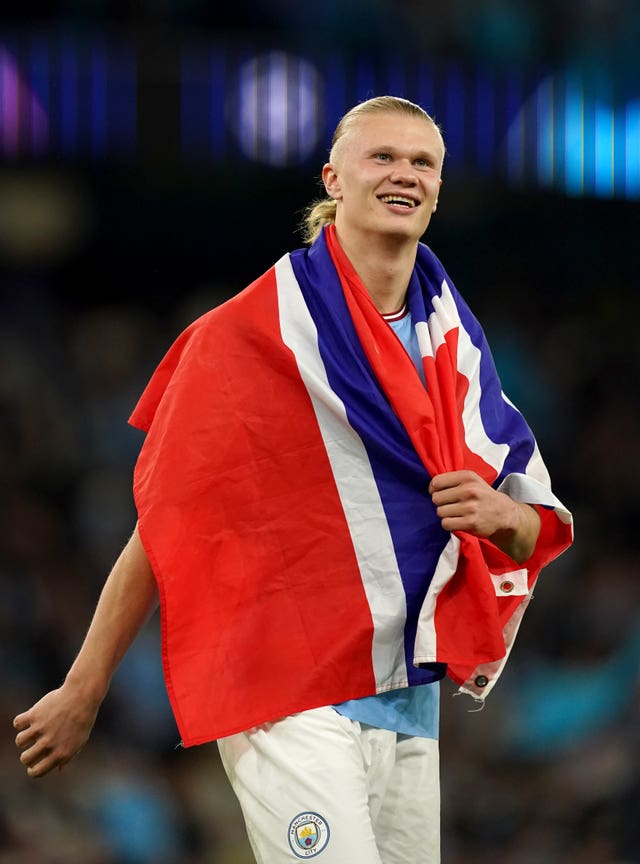 Erling Haaland's extraordinary 51-goal contribution to City's treble had no equivalent in a United squad that shared the burden much more equally.
Dwight Yorke and Andy Cole formed a potent front two, Yorke edging his strike partner by 18 league goals to 17 and by 29 to 24 in all competitions.
Super-sub Ole Gunnar Solskjaer scored 12 league goals despite starting only nine games and 15 in the three competitions with just 14 starts alongside 20 appearances from the bench. Teddy Sheringham was even more sparingly used, but his four goals included the vital equaliser in Barcelona before Solskjaer's even-later winner.
Paul Scholes and Ryan Giggs also hit double figures, with David Beckham on nine.
Haaland won this year's Golden Boot awards in the Premier League, with a record 36 goals, and the Champions League with 12 – including five in a game against RB Leipzig – as he finished four clear of the pack.
He has been backed up by fellow summer signing Julian Alvarez with 15 goals in the league, FA Cup and Champions League, the same as Phil Foden, plus 13 from Riyad Mahrez and double figures too for cup final hero Ilkay Gundogan and Kevin De Bruyne.
Eight of Sir Alex Ferguson's squad featured in 50 or more of the 57 games that led to the treble – goalkeeper Peter Schmeichel, defenders Gary Neville and Jaap Stam, midfield trio David Beckham, Roy Keane and Paul Scholes, and Cole and Yorke up front.
Just Rodri and Bernardo Silva can boast the same figure in City's treble as Guardiola's famed rotation policy and squad depth shows its worth. Haaland, Gundogan and Jack Grealish have hit 50 in all competitions.