Manchester United were back in training just 19 hours after winning the Carabao Cup, with Luke Shaw saying there are no days off as Erik ten Hag's transformed side target more trophies.
The Old Trafford giants' longest trophy drought in 40 years came to an end on Sunday, when a 2-0 win against Newcastle at Wembley earned the club's first silverware since 2017.
It was a special occasion celebrated wildly under the arch before United flew from Luton back to Manchester, landing at 11.30pm.
But there was no time to bask in the afterglow of the Carabao Cup win as the frantic schedule continues with Wednesday's FA Cup fifth-round clash against West Ham.
Ten Hag's team were at United's Carrington base on Monday for a 1.30pm recovery session as they focus on securing further silverware.
"I think obviously we don't want to look too far," long-serving United left-back Shaw said. "I think of course the game is a really big game on Wednesday.
"It's a competition that of course we want to look to win. I think that's why we're in today. There's no days off.
"There was not really many celebrations last night, so I think full focus after that was just to make sure that we come in today and prepare for that game because, like I said, it's a competition that we want to stay involved in.
"We know it's going to be a tough test against West Ham."
Asked about the first trophy of the Ten Hag era, he told Sky Sports: "In the changing room and stuff it was a nice feeling to get our first one all together.
"I think getting a little bit of a taste of that we want more and that's our aim for the rest of the season."
Ten Hag's arrival and the acquisition of leaders like Casemiro and Lisandro Martinez has altered the mentality of a group that had started off where they left off.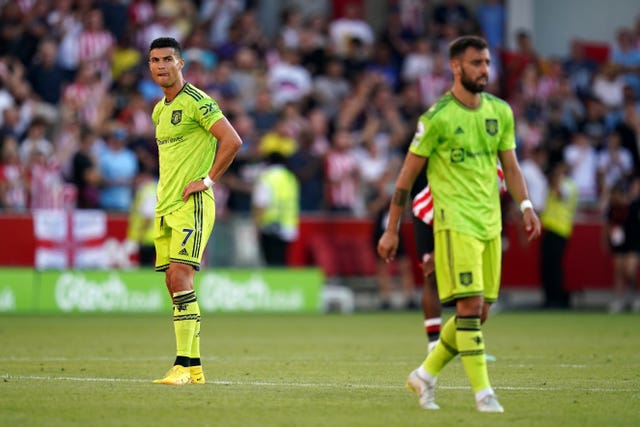 After a wretched end to the 2021-22 season, United suffered a shock 2-1 home defeat to Brighton in Ten Hag's first game before being humbled 4-0 at Brentford.
"Yeah, a big change," Shaw said. "Maybe if we think back, maybe it was good that happened at the start because a lot has changed since then.
"I think a lot of that is down to the manager with how he acted with us after that game and the decisions and stuff he did after that game that obviously changed the mentality here.
"We all love working under him and we all believe in what he wants us to do. We're really enjoying our football at the moment so hopefully that can continue."