Pep Guardiola is not surprised to see his former assistant Mikel Arteta thriving at Arsenal this season.
Arteta spent three years as Guardiola's assistant manager at Manchester City before leaving to take charge of the Gunners just over three years ago.
He has since had some difficult times – with pressure particularly intense after three successive defeats at the start of last season – but the situation has now turned dramatically.
Arsenal currently have a five-point lead over champions City at the top of the Premier League, with a game in hand, ahead of an intriguing clash between the two clubs in the FA Cup fourth round on Friday.
Guardiola said: "I said all my comments about Mikel when he was here and in the first seasons.
"I had the feeling, we knew it when he was here, (about) his ability for City.
"It is the biggest compliment for Arsenal as well, for the hierarchy, the sporting director, the club, for backing him in the bad moments and trusting him and keeping him and relying on him.
"I guess it was not easy because important figures were dropped, and to do this the people had to support him, but that happened.
"That's why, at the end, you need time, you need investment and the results are there. It is a challenge for us to challenge them."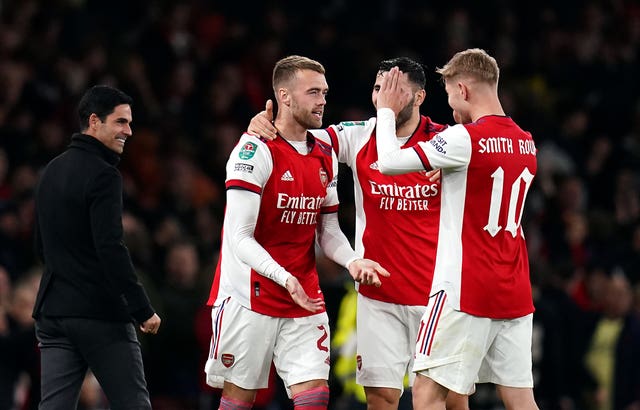 Arteta had been considered a potential successor to Guardiola at the Etihad Stadium but the City boss could not begrudge his fellow Spaniard the chance to move to Arsenal, for whom he played, when the chance arose.
Guardiola said: "I am pretty sure if I would have left, he would be here and he would be the best, absolutely.
"But I extended the contract – I am sorry – and he didn't wait.
"I am not a guy to say, 'no, you have to stay with me'. Everyone has dreams. We felt if one team could offer him (the chance) to be manager he would leave.
"I know he went to 'his' club, the team he dreams of. He's a supporter, for the fact he played there, he was a captain there. He loves the club.
"I remember when we were together here, when we scored goals, he'd jump a lot and celebrate – except against one team. It was Arsenal.
"Like me, if I'm training as assistant and Barcelona call me, I will go. My club.
"People have to fly when he believes is the best. Life is too short. Spend time in a place you believe suits you better. If it's a bad place or you don't like it, leave."
Arteta has hailed Guardiola as his inspiration ahead of Friday's clash at the Etihad Stadium but the City manager feels he also learned a lot from his former number two.
He said: "I don't know my part on him but his influence on me was great, massive, so important in becoming a better manager."