The Premier League has joined refereeing body PGMOL in condemning abuse directed at Anthony Taylor after video footage emerged of him being accosted by angry fans at Budapest Airport.
Taylor and his family can be seen trying to evade a mob, who were shouting at him as he travelled home after refereeing Wednesday night's Europa League final between Roma and Sevilla in the Hungarian capital.
A Premier League spokesperson said it was "shocked and appalled by the abuse suffered by Taylor, whilst PGMOL described the incident as "unjustified and abhorrent".
The Premier League official was criticised for his performance in the final by Roma boss Jose Mourinho during his post-match press conference after the Italian side lost on penalties to Sevilla.
And in video footage which later emerged on social media, the former Chelsea and Manchester United manager is seen gesticulating at Taylor and officials in the stadium car park and heard saying "disgrace".
In the incident at the airport, clips on Twitter show a chair and drinks being thrown in the direction of Taylor and his group as they make their way through a gathering of Roma fans.
A Premier League spokesperson said: "We are shocked and appalled by the unacceptable abuse directed at Anthony Taylor and his family as they travelled back from the UEFA Europa League Final.
"No one should have to suffer the inexcusable behaviour they had to endure yesterday.
"Anthony is one of our most experienced and accomplished match officials and we fully support him and his family."
The Professional Game Match Officials Limited (PGMOL) said in a statement on Thursday evening: "PGMOL is aware of videos circulating on social media showing Anthony Taylor and his family being harassed and abused at Budapest Airport.
"We are appalled at the unjustified and abhorrent abuse directed at Anthony and his family as he tries to make his way home from refereeing the UEFA Europa League final.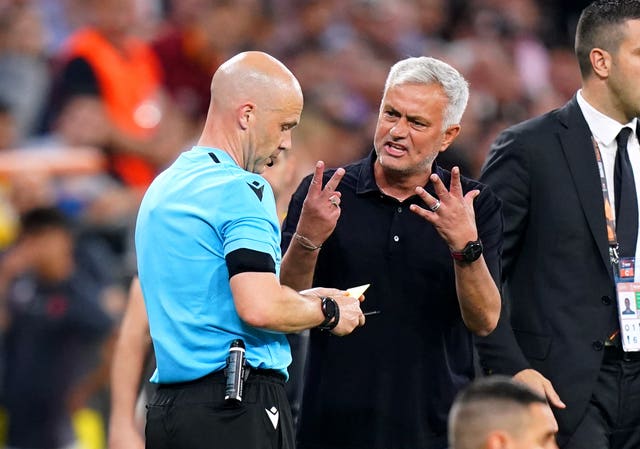 "We will continue to provide our full support to Anthony and his family."
UEFA is awaiting Taylor's reports before deciding whether to take action against Mourinho for his rant.
Taylor booked Mourinho during the game, which finished 1-1 after extra time before Sevilla sealed their seventh Europa League triumph by winning 4-1 in a penalty shoot-out.
Tempers simmered on and off the pitch in a disappointing final, with 13 players shown yellow cards, seven of them to Roma players, while fourth official Michael Oliver had his work cut out to keep control of both dug-outs.
The game was littered with delays, with a total of 25 minutes' stoppage time added to the 120 minutes of playing time.
West Ham boss David Moyes condemned the treatment of Taylor as he prepares his side for Wednesday's Europa Conference League final against Fiorentina in Prague.
"I didn't see the game so I can't comment on the game itself or the officiating," Moyes said.
"All referees have a really difficult job and shouldn't be put through any difficult situations, which I heard about this morning. That's not correct."