Arsenal are set to go into their Premier League clash with Bournemouth without a recognised number nine.
Gabriel Jesus is still recovering from a knee injury suffered during the World Cup and now Eddie Nketiah is a doubt with an ankle issue.
The Gunners go into the weekend five points clear at the top of the table after a 4-0 win over Everton on Wednesday night.
Arteta's side have won three in a row following a brief blip in form which temporarily saw them knocked off the summit by closest rivals Manchester City.
Nketiah has come off the bench in the last two games, with Arteta preferring to play Leandro Trossard in a central role, but now both he and Jesus are sidelined for the visit of the Cherries.
Nketiah has an ankle injury which the club are hopeful is nothing major but Arteta admits he is unsure about it.
Jesus, meanwhile, has yet to return to contact training and his recovery from knee surgery is expected to become clearer in the next week.
"He's not far now," said Arteta. "I don't want to give a timeline but certain things are with the team and certain things are outside the team. He's not very close but he's not far at all.
"He's feeling better every day and the doctors are confident with the way the injury is evolving. We are in a good place with him, I think.
"At the beginning we were really concerned with the possible extent of the injury because we were talking about a few options there.
"I'm saying we're not far away but obviously he has to do much more with the team. Let's see how the next week, 10 days develop and we'll have a much better picture."
Losing Jesus was seen as a potential blow to Arsenal's title hopes but the Gunners have done well even in the absence of the four-time Premier League winner.
Asked if Jesus will have to work for his place in the team, Arteta replied: "Probably that wouldn't be fair on him because he was starting every single game and what he produced for the team was phenomenal.
"It is true that we need to see when he's back what level he is, how we're going to fit him in and how we're going to load him with minutes and in which games.
"Like everybody else, he'll have to earn his place but we know what Gabi can give to the team."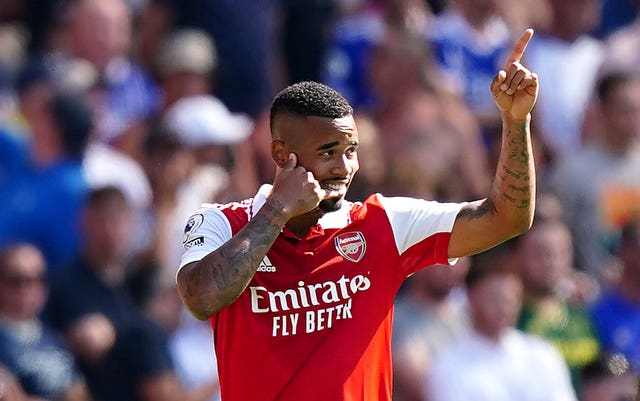 City can close the gap to two points before Arsenal kick off at the Emirates Stadium, with Pep Guardiola's side hosting Newcastle in Saturday's early game.
Conversely, if they fail to see off the Mapgies, Arteta admits Arsenal can take advantage: "We are looking at the games for sure when they are live, before that. It can become a stimulus," he added.
"But I don't think there is need for any extra motivation. We know the difficulty of the challenge, we are really looking forward to it and we go game by game."