A 35-year-old man has been ordered to pay compensation to Arsenal goalkeeper Aaron Ramsdale after assaulting him at the Tottenham Hotspur Stadium at the end of the north London derby.
Ramsdale, 24, was kicked in the back shortly after the Gunners beat Tottenham 2-0 in a Premier League match on January 15.
Joseph Watts pleaded guilty at Uxbridge Magistrates' Court to assault by beating, going on to an area adjacent to the playing area and throwing a missile on to a football playing area.
Watts, a Tottenham supporter, was handed a 12-month community order, made to pay £100 in compensation to Ramsdale and will have to carry out 150 hours of unpaid work.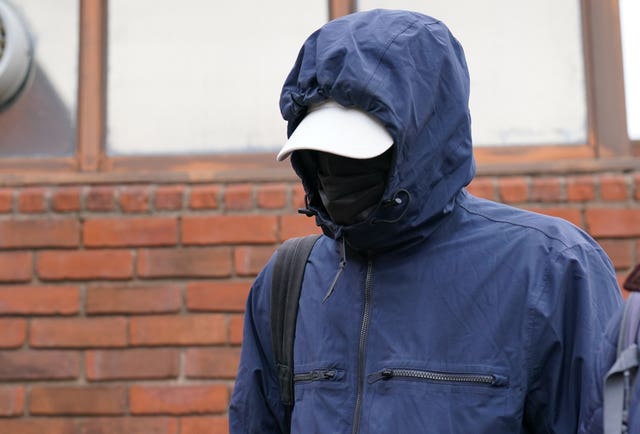 He also received a four-year football banning order, meaning he cannot attend matches.
Deputy District Judge A King, sentencing on Friday, said the assault was "relatively short-lived, comprising a single blow".
Mr King went on: "When individuals lose self-control it can have a ripple effect, in this case there could have been a significant risk of serious public order."
He added: "It has had some psychological effect and he (Ramsdale) will have this in the back of his mind when he goes to work in the future."
The court heard Ramsdale had been celebrating the victory and collecting his bottle from behind the goal when he was attacked.
Watts, a pub worker, ran down the stairs from where he was sitting, climbed over a barrier and on to an advertising banner before kicking Ramsdale, who was turned away from him.
He then ran back into the stands.
Ramsdale, in a victim statement read to the court, said he saw a masseuse because his back felt "heavy", but there were no marks.
He went on: "I've never had someone enter the pitch and kick me, I don't think it's acceptable that I should be assaulted at work."
The England international also told of being wary of similar incidents happening in the future.
Watts, who admitted being drunk, having had six pints, also threw four coins towards the pitch.
The probation service told the court Watts, who has a 13-year-old daughter, is "disgusted, embarrassed and ashamed" of his behaviour.
He had also said he was sorry to Ramsdale and both football clubs.
The probation service added: "He acted on impulse and got carried away with the passion of the day."
Watts, of Dalston in Hackney, east London, appeared in person during the hearing.
He is said to be of good previous character.
Following the incident, the Football Association "strongly condemned" what had happened, while Tottenham said "violence in any form has no place in football".
Police said the Metropolitan Police's football investigations team was assisted in its inquiries by the club.
Kevin Christie, district crown prosecutor and football lead for north London, said: "The north London derby is a passionate match between two rivals but fans should never get too caught up in the emotion and cross the line into criminal behaviour.
"Watts was captured on live television kicking the Arsenal goalkeeper after letting his temper boil over as his side lost.
"The result of his actions means that he can longer see his team play live."