Pep Guardiola feels Arsenal have an advantage in the title race because they do not carry the same weight of expectation as his Manchester City side.
Champions City trail the Gunners by eight points at the top of the Premier League prior to playing their game in hand against Chelsea at Stamford Bridge on Thursday evening.
Yet despite the ground they still have to make up, City remain the favourites for the title.
After taking the crown in four of the past five seasons and with their undoubted financial strength, this is a tag Guardiola's side have long carried and he admits that brings pressures.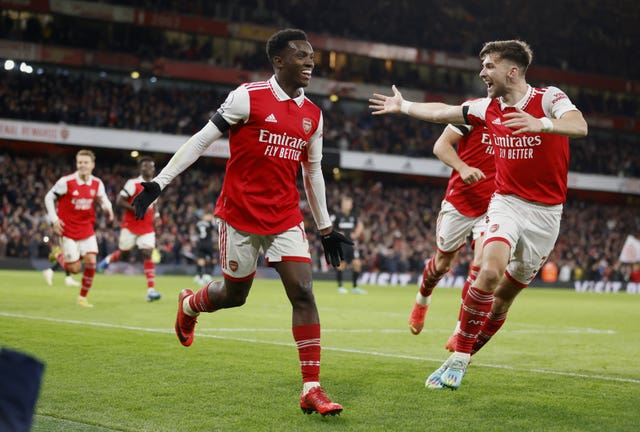 The City manager said: "The advantage of Arsenal and Manchester United right now is nobody has to win the Premier League for 20 points ahead in November like Manchester City has to – and this is sometimes a big problem.
"People say, 'Ah, yes, you are…' Yes, we are, but with Arsenal winning all their games and you are seven or eight points behind… it (Arsenal winning the title) can happen."
City had to settle for a point against struggling Everton in their last outing but Arsenal's draw against Newcastle on Tuesday has offered a chance for them to cut the deficit.
Guardiola feels, however, his side have their work cut out to close the gap completely.
"The way they played against Newcastle again impressed me a lot," he said. "They dropped two points but they didn't drop the quality (with which) they played.
"We have to be almost perfect, I would say, from here to the end of the season and hope they drop a little bit in their performance.
"But, at the same time, I see the way we played the last games, and the feeling is good. Maybe we'll play s*** tomorrow but the feeling is good.
"My target always as a manager is to try to be yourself and be better than the opponent, and after if you concede one shot and they score and we can't score, you have to accept it and move forward.
"What I want to see is us still fight, don't give up, not now, until the last chance, until the last drop of water we can fight to win the Premier League, and the moment we are not able to win the Premier League we have to be ready to compete next season. This is when teams are really good."
Meanwhile, Guardiola has insisted Phil Foden has nothing to prove to him.
The midfielder has started just one of City's last six Premier League games but Guardiola says this is simply down to the good form of other players, and nothing bad on Foden's part.
Asked what Foden needed to do to win back a place in the starting line-up, Guardiola said at a press conference: "Nothing. I chose another. There's not a special reason. The decision to play is exclusively mine and not because he is dropping something, absolutely not."