Harry Kane believes it could be possible for him to score 100 goals for England.
The 29-year-old became his country's greatest ever goalscorer when he broke Wayne Rooney's record of 53 with a penalty against Italy last week and followed it up with a 55th in Sunday's win over Ukraine.
The Tottenham striker, who has won 82 caps, says he intends to play for his country for as long as possible, so reaching a century is not out of the question.
"Getting 100 will be tough for sure, but I never count out anything," he told the PA news agency.
"I am still young, I am 29, I am still fit and strong. I want to play for England for as long as I can.
"Every game there is I will be putting myself forward to try and play.
"We will take it step by step. The next step will be trying to get into the 60s.
"A hundred is not out of the question, it will be extremely tough but we will have to see how the next few years go."
Kane's record-breaking moment means that number 54 will always be significant and he is marking the achievement in a special culinary way.
He has designed a burger on go on the menu at the TOCA Social bar in London – a football-based entertainment venue that Kane has invested in – with 54 per cent of each sale going towards the Harry Kane Foundation.
So, how does the England captain, who hired a private chef to help improve his game, fare in the kitchen?
"I do enjoy a burger and I wanted to go down a healthier route," he revealed.
"It's just food I enjoy eating. It is half healthy and half enjoyable.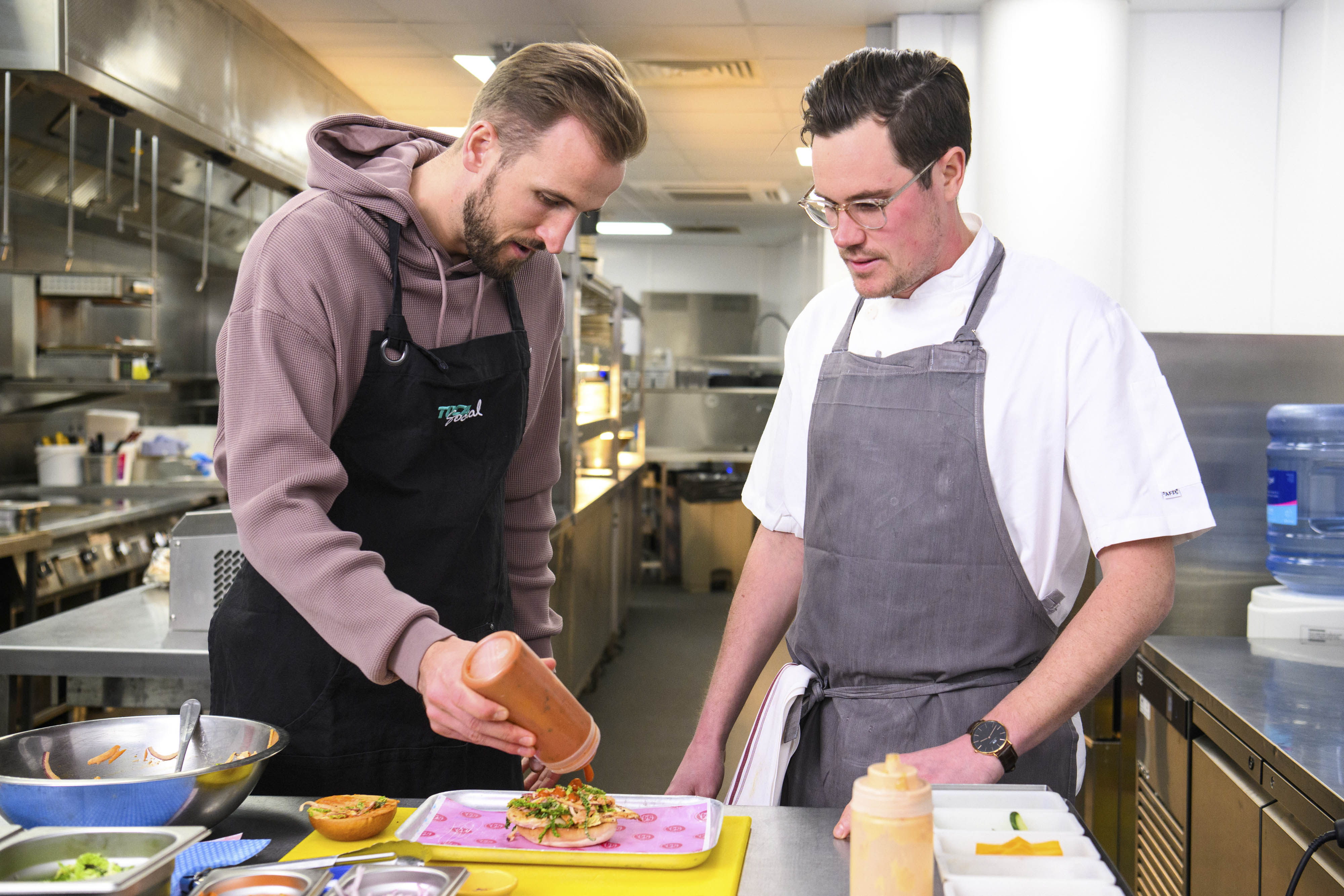 "My skills weren't too bad. I cook breakfast for the kids most mornings but it is pretty basic.
"I feel like I was alright and handled it pretty well. It wasn't as bad as people might think."
Kane set up his foundation towards the end of 2022 with the goal of helping children with transforming a generation's thinking about mental health.
The launch coincided with an appearance on CBeebies Bedtime stories, which he revealed went down a treat with his three children.
"I think they loved it, but it was strange for them because I am usually the one reading them stories in their rooms at bedtime," he said.
"I think they found it strange to see me on TV reading stories. But not just my kids, my friends at Spurs and England say their kids loved it and watch it most nights so I'm glad I did an alright job on it.
"But that was fun and different and with three kids, it was good to do something different for the other children around the world."
With a World Cup Golden Boot, three Premier League Golden Boots and Tottenham's all-time scoring record under his belt, Kane has already achieved an incredible amount.
But standing alone as England's greatest goalscorer ranks number one and is an achievement he never even thought possible when starting out as a kid playing for Ridgeway Rovers.
"This one is right at the top. I am extremely passionate about my country, I love playing for England," he said.
"Even when I was younger, England was everything to me, watching them growing up.
"To be in that company now. To think of all the English legends and strikers that have played the game and to be number one now is just beyond my dreams.
"Playing for England is special and to have this record is special.
"I don't think I dreamed this far. I dreamed of playing for England and scoring for England – to be record goalscorer was not even in my dreams.
"I have had so many great moments and hopefully there are more to come."
:: 'The Record Breaker' burger is available for a limited period at TOCA Social at The O2 in Greenwich, London – the world's first interactive football and dining experience. Book your visit on https://www.toca.social