Real Madrid goalkeeper Thibaut Courtois believes the club's continued success in Europe can offset the power of the Premier League.
For the fifth time in six seasons England's top flight will have at least two representatives in the quarter-finals of the competition the Spanish giants have won a record 14 times.
Six Premier League teams have featured in the last five finals – two were all top-flight occasions – and Liverpool and Chelsea have won one apiece, which is the same number Real have won over the same period after three in four years from 2014-17.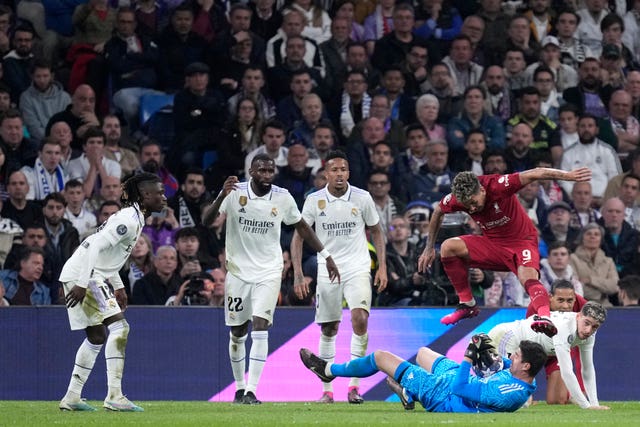 So while English clubs may have the financial might, the LaLiga giants have shown they are still the side to be reckoned with at Europe's elite level and a 6-2 aggregate victory over Liverpool put them into the last eight again.
"It's hard to say whether it's the best league or not but definitely with the new investment in Chelsea, City and Newcastle, there is a lot of attraction to go to the Premier League," said former Chelsea goalkeeper Courtois, who cited Manchester City's signing of Erling Haaland as an example.
"It's a really exciting league, that's for sure, a big competitive league and the level is really high. But I think we demonstrate that we have a big team and that you cannot under-estimate Spanish teams. We showed it again.
"It's obviously nice to beat English teams because I was there for a few years, but when you're in the Champions League you want to win against everybody – maybe next it's Portuguese and Italian clubs."
On Haaland he added: "He's a great player. He was maybe what City were missing in previous years. I think that's (an example of) where the Premier League maybe has the edge on other leagues.
"It's the strength of the Premier League; what they've done in previous years to make everyone strong and give everyone the (TV) money and if they get relegated they have parachute money. All these things make a difference to the strength of the league.
"Hopefully we can balance it out. I really feel this is somewhere that LaLiga can learn from and I think they are doing it step by step.
"You can see a lot of LaLiga are building new stadiums or making their stadiums nicer but (it) always helps when you see that every Premier League ground is full. We need the same here and then the product can be better."