Celtic manager Brendan Rodgers admits they need to take something from the visit of Atletico Madrid to progress in Europe.
But Rodgers is well aware of the European experience of Diego Simeone and his team and the need to be "intelligent" with their pressure.
Celtic have produced largely encouraging performances in their opening two Champions League games but they sit on zero points, three behind Feyenoord and four behind Atletico and Lazio.
Atletico were seconds away from winning in Rome and have a strong recent pedigree in Europe, which includes reaching two Champions League finals and winning the Europa League three times since 2010.
Rodgers said: "We play every game to win but your pressure always has to be educated. We want to be intense but we have to press the game with an intelligence as well, because they have top-level players.
"It's important for us, if we are going to progress at any point in any of the competitions, we have to take something from the game, otherwise it's a hugely difficult challenge for us.
"But we are excited about the challenge and I am really looking forward to seeing how we take that challenge on.
"This is a team that knows their way around European football, they are fighting for the Spanish title.
"But we just have to go and play our game and look to be brave and play with that courage we have been playing with, and see if we can pose them some problems."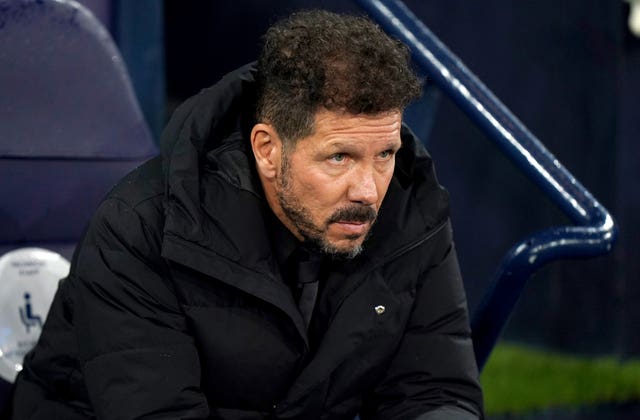 The former Liverpool and Leicester manager added: "I actually think we will have a lot of the ball. In terms of how Atletico play, they will press us in certain sectors of the game.
"But Diego always sets his teams up to play in a lower block in the main, which means it's very, very difficult to break through.
"I think we will still have a good amount of possession but we have obviously devised a plan that will help us give them things to think about."
Celtic's chances in Rotterdam were undone by losing a soft goal from a free-kick on the stroke of half-time before getting two players sent off.
They took the lead against Lazio and looked to have won the game late on only to be denied by a marginal offside decision, before conceding deep into stoppage time. Rodgers will aim to use the frustration of that finale to drive his players on.
"The Lazio game was a real indication of the level," he said. "We played very well but one moment at the end of the game costs you the points.
"That's a reminder of the level but it doesn't stop you being persistent and looking to fight. The fans expect us to fight and run in order to play quality football. That's the style of this team and we will continue to do that.
"It's life, isn't it? Adversity is some of the best learning that you have. The pain was numbing at the end because we didn't feel we deserved that, but I don't want to be taking condolences after losing games of football. I respect the level we are at and it's up to us to see if we can be more progressive in our results.
"One of the biggest things at this level is concentration. If you drop your guard for a second, you can get punished.
"We have shown, especially in the Lazio game, we can create opportunities and our goal was fantastic.
"I always say concentration at this level is huge and finishing your opportunities when you get them.
"We have to have that collective mentality, a green and white block moving up the pitch, everyone together and pressing and passing how we want to.
"If we can do that and keep that concentration, we have a great chance against any team, especially at home."