Newcastle's sporting director Dan Ashworth believes the club is on "an upward trajectory" as he revealed their aims for the next few years.
The Magpies continued to show their strength competing in the Premier League's top six after handing Arsenal their first league defeat of the season on Saturday.
Newcastle still have plenty of other competitions to challenge in and this season marked their return to the Champions League, where they face Borussia Dortmund on Tuesday night.
Eddie Howe's side also earned a huge victory at Old Trafford last week, beating Manchester United to secure a spot in next month's Carabao Cup quarter-finals, and Ashworth said challenging for trophies is something the club are aiming to achieve.
"The next number of years is to fight and get into the top six on a regular basis and compete for trophies," he said.
"But in football it can flip around really quickly as well. You can lose two or three on the trot and all of a sudden…we lost three games on the trot at the start of the season and it was 'okay, what's happened?'
"Football is peaks and troughs, success has never been a straight line. I know it's a bit of a corny phrase, but especially in the Premier League where anyone can beat anybody – things can happen really quickly.
"We're on an upward trajectory, but there are definitely some bumps in the road and that's the nature of football, but we're on the right pathway.
"What's really difficult is to be able to compete commercially as well, some of those clubs have been a global brand for decades. That's one of the big challenges for Peter (Silverstone), Darren (Eales) and the team as well.
"We've all got to try and work together to try and get ourselves into a situation where not only are we a top-six club on the pitch, but also a top-six club off the pitch and really try and drive the revenues and interest in the club as well, which gives us more ammunition in order to be able to compete on the pitch."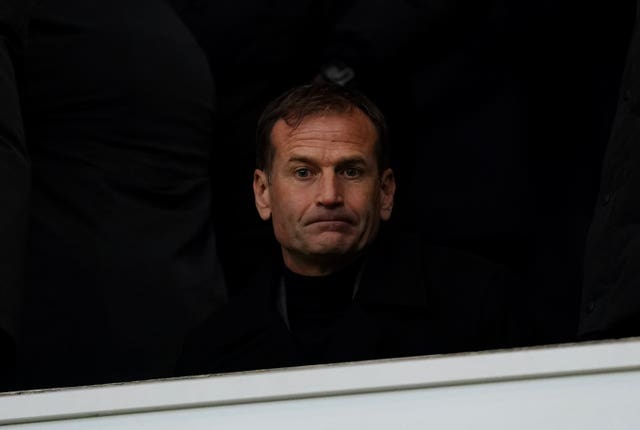 Since officially joining the club in June 2022, Ashworth's time with the club has seen quite the turnaround.
As well as finishing fourth last season, the Magpies reached their first major final since 1999 earlier this year against Manchester United in the Carabao Cup final, where they were beaten 2-0.
Newcastle's women's team also reaped success after earning promotion to the National League Northern Premier Division and became the first full-time professional football club operating in the league.
Improvements have also been made to the training ground and Ashworth is determined to keep driving the club forward.
He said: "Complacency is a dangerous thing isn't it? Certainly there's no complacency here, we want to keep striving and keep pushing.
"Whether that's with our academy from under-9s, whether that's our women's first team, whether that's improving the provision and psychology and player care around the team, whether that's making improvements to the training ground, we've got to keep pushing.
"If you start to stand still in professional sport, you're stuffed. It's about keep pushing, keep pushing, keep driving in all areas of the football club."