Celtic manager Brendan Rodgers likened modern football to a "computer game" after claiming Daizen Maeda was sent off following a needless VAR intervention in his side's 6-0 defeat by Atletico Madrid.
Maeda saw a yellow card upgraded to red following a VAR review midway through the first half at the Estadio Metropolitano, but Rodgers felt referee made the right call initially.
The Japanese attacker dangled a leg in a 50-50 challenge with Mario Hermoso, who hurt himself as he followed through.
Celtic were already trailing to a deflected strike from Antoine Griezmann and Atletico took full advantage of the numerical superiority. Griezmann and Alvaro Morata both struck doubles, while Samuel Lino and Saul Niguez also scored as Atletico hit a string of spectacular second-half goals.
Rodgers said: "I think the red card is a big turning point. We started well, started with confidence, got into some really good areas. We then get a man sent off early, which was a huge disappointment because I didn't feel it was a red card.
"When you watch the re-run, both players kick each other's feet. The referee saw that in game time and then he is asked to look at it.
"The first image he sees is not representative of the actual challenge. You plant a seed when the first image he sees is Daizen Maeda's foot up, but that wasn't the challenge and it's a really, really soft red card.
"For a team coming here with 11 against 11, you would need to be at your real max to get something out the game and losing a man early, it becomes a real challenge and we tire and they scored some fantastic goals."
Rodgers was angered by the reaction of the Atletico bench after the Maeda challenge, with boss Diego Simeone and six or seven colleagues racing into the technical area to remonstrate.
He said: "They will play the game, they are obviously trying to get our player sent off.
"Listen, it's still up to the ref. You come away in Europe and a place like this where it's an emotional stadium, everyone will add pressure.
"The ref saw it in game time and didn't deem it worthy of anything so serious, but it just feels like a computer game now, football. So many visits to the screen, so many influences in the game.
"As time has gone on you see the influence of VAR and the difficulties referees have. There's a lot of judgements going on away from the field.
"It's not so much the technology, but how it is implemented. It's not something I enjoy.
"When it first came out I was very much wanting to support it and hoped it would improve the game, because I think everyone thought the utopia of VAR would mean we would lose all these bad decisions.
"But you could argue there's even more now. There's a good percentage where it just doesn't feel right in the game."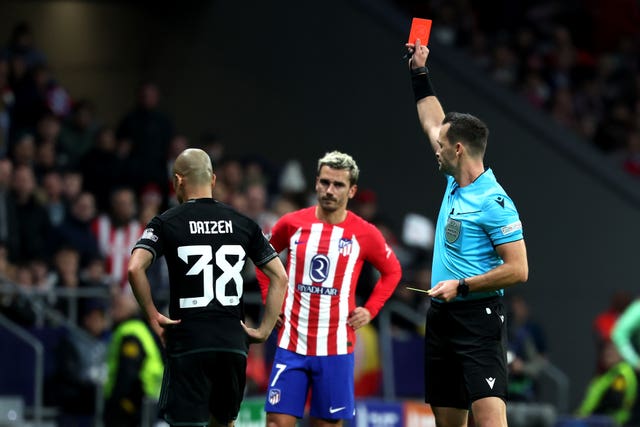 Rodgers maintained a 4-3-2 formation after the red card, with Oh Hyeon-gyu coming on at half-time.
"You have seen my teams enough back home," he said. "Whenever we lose a man it's having that structure.
"Listen, you can have any structure you want, it can be very, very difficult against that level of opponent. It just didn't work for us so we have to take our medicine."
Celtic remain bottom of Group E but are still not eliminated from the Champions League, although they will need to beat both Lazio and Feyenoord and hope Atletico do them some favours to stay in Europe beyond Christmas.
Rodgers said: "We knew we had to take something from this game, but with Lazio winning as well, our objective with two games to go is to get points and see if we can improve on last season's points total."