The King is dead, long live the King. Steven Gerrard has left the building and his train has stopped at the next station on his journey back to the promised land that is Anfield.
The former Rangers manager left Ibrox on Thursday with bags packed and no emotional goodbye to the assembled squad. There may well have been the odd individual call to players worthy of his thanks, but when the deal was done at Villa, Stevie G and his backroom team were off from the stepping stone of the Scottish Premiership quicker than you could sing 'Walk on.'
I am told that within the corridors of power at Ibrox, there wasn't the level of tears and despair shown by some fans who couldn't believe he would do such a thing to a club the size of Rangers for the minnows of Aston Villa.
In fact, I am led to believe some people were happy to see the back of him, but you won't hear that word spoken for a long time until someone within the boardroom decides to lift the lid on Gerrard's three-and-a-half year reign in Glasgow.
The facts on his tenure as Rangers manager are fairly straightforward. He did what he had to do. The remit was simple: stop Celtic winning ten in a row and he did it. The team he put together last season deserved to win the league, they played better football and were unbeaten in the Premiership.
He also delivered a level of respect back to Rangers on the European front with two impressive campaigns in successive seasons to the last 16 of the Europa League. Many of those performances at home and away proved that he had qualities worthy of a step up to the English Premier League. In fact, I would go as far as to say his European exploits gained far more kudos and respect down south than delivering Rangers' first title in ten years.
In England, Gerrard is a God to some. They love him and he can do no wrong among a large chunk of writers, pundits and former teammates. In their opinion, he has made the right move to leave the madness of Glasgow behind him to focus on the next stage of the grand plan to walk back into Anfield when Jurgen Klopp decides he also wants to return to his homeland.
This all sounds as if it's a script from Walt Disney or perhaps the follow up to 'Make Us Dream' on. Amazon Prime. The return of the Jedi is almost complete, barring of course any slip-ups in Birmingham.
There is of course a flip side to every story and my friends and colleagues in the media down south are about to find out the prickly dark side to Steven Gerrard when it isn't all going according to plan. In fact, he may even ban you from your own press conferences if you step out of line. Was that a club decision up here or a weak manager who couldn't stand up to an outrageous plan for more cash or less scrutiny, I'm not sure?
Here are some other facts that cannot be debated: he failed to deliver any cups in his time as manager. Knocked out twice by Aberdeen in his first season. Losing to Celtic in the 2019 League Cup final after dominating almost the entire ninety minutes and then dumped out of the Scottish cup by Hearts later in the year.
In the next season, lowly St Mirren and St Johnstone also dispatched a Rangers side out of the cup with budgets that were minute compared to the money the Rangers board had managed to find for Gerrard.
However, all that mattered not a jot as Celtic's implosion under a calamitous board, a mutinous team and a manager who lost control of the dressing room all contributed to a relentless Rangers title winning side.
Gerrard's departure comes as no surprise to me when you consider the evidence of this season. The manager said he needed more money for a tilt at the Champions League, the board stated he had been given substantial funds to back his vision.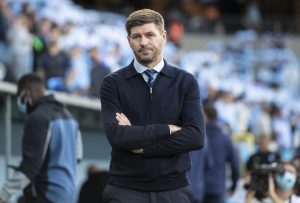 Suddenly cracks in the relationship started to emerge. Malmo bumped his team out of the Champions League with ten men. Then the financial results, £23.5m losses, a need for £7.5m before the end of the season and no sign of new players coming in. Suddenly alarm bells are ringing in Stevie G's camp.
Time for a sharp exit!
Whether Villa are a bigger club than Rangers is irrelevant. They are in a bigger and better league with more money to spend than Rangers can in our tiny little divided country with only a two horses race every year for the title. 
We are about to find out how good a manager Steven Gerrard really is in the billionaires playground of the English Premier League. He is now in the lion's den with the first job making sure Villa stay in the Premier League.
I apologise for the lions den analogy, because we all know up here it isn't a lion's den. A lion's den is when you jump over a cage and you have four lions chasing you and you fear for your life. Copyright Steven Gerrard 2018.
As a player, Gerrard is the second best I have ever watched at Anfield. King Kenny is the greatest by some distance from Stevie in a distant second place. As a manager, the jury is still out on whether Gerrard is the real deal. If he does something special at Villa his coronation to Anfield is imminent. If not, I wonder whose fault it will be?