Erik ten Hag has no complaints about the relentless fixture schedule as the Manchester United manager looks to end his first season at the club with silverware.
The Dutchman took over following a wretched 2021-22 season with the Old Trafford giants in the midst of their worst trophyless spell in 40 years.
Ten Hag has overseen an impressive upturn, with the club vying for glory in all three cup competitions after bouncing back from last weekend's 3-2 loss to Premier League leaders Arsenal.
Wednesday's 3-0 semi-final first-leg win at Nottingham Forest means they are all but assured to end February in the Carabao Cup final – a month they will play eight fixtures in.
Many expected Ten Hag to rotate against Championship side Reading on Saturday with that in mind, yet he only made one alteration on a night that ended with a 3-1 victory in the FA Cup fourth round.
"If you see everything in the perspective of the result, yeah, after a defeat we bounce back," he said. "I was happy with the performance at Arsenal, but we make mistakes.
"We have to work on those mistakes but now twice we had good performances and two good results."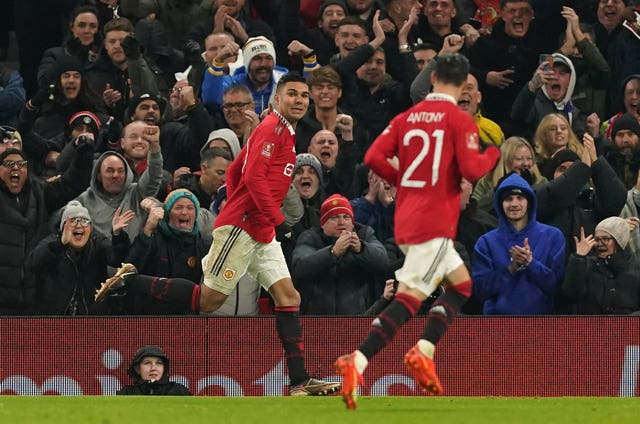 Asked if he named such a strong cup selection because he knows how vital United's first trophy since 2017 could be, Ten Hag said: "As well but also I don't complain.
"We know what the fixture schedule is, we have to deal with this.
"At clubs we have to set squads and squads are big enough to deal with it and I think players like to play.
"You can build and construct a good team when you play often and, in my perspective, when you play often the same you are getting the routines in."
United showed that rhythm but lacked a cutting edge in a first half that saw a Marcus Rashford goal ruled out for offside.
In the end it was the Brazilian stars that lit up a cold, wet Manchester night, with Casemiro scoring a magnificent brace before Fred flicked home in audacious fashion.
"It's no Copacabana, eh? I was pleased with their performance," Ten Hag said of the Brazil duo and their compatriot Antony.
"I have to say I was pleased with the performance from the team in the first 60 minutes.
"I think we played in our opponents' half, we stayed in the opponents' half apart from one big chance what we concede.
"It was one moment of a lack of concentration and we have to work on that point."
Antony was named man of the match after Saturday's tie, but Casemiro was the difference maker at Old Trafford.
"When you see his profile, if you see his performances in the last years for Real Madrid, it's magnificent," added Ten Hag, who says fellow summer signing Christian Eriksen will have an ankle issue assessed.
"They (Real Madrid) play in such a high level. They win four or five Champions Leagues, so that is the highest trophy you can win in club football.
"He had such a massive impact and I think the first one who was always in the starting 11 was always Casemiro for every manager at Real Madrid.
"Then you understand that he also will have that impact in English football."
Reading were second best throughout Saturday's tie, but Amadou Mbengue grabbed a consolation after Andy Carroll was sent off for ex-United midfielder Paul Ince's men.
"You plan all week and then look at the team sheet and it's like, 'Jesus, he's going full throttle in this one'," the Royals boss said of United's line-up.
"That is what you want as a player. When you come to Old Trafford you want to play against the best that Man Untied have.
"We're never going to win the FA Cup, that's for sure, but to hold them to 0-0 at half-time and actually should have scored before then to go 1-0 up gave us a lot of confidence.
"We've got to take pride in that, positivity in that and use that to give us confidence to go into games in the Championship, which is obviously more important than what we have tonight."