Erik ten Hag was infuriated by the officials' inaction for a poor challenge on star man Marcus Rashford after Manchester United failed to turn dominance into a memorable Europa League win at Barcelona.
Thursday's knockout round play-off first leg lived up to the hype as the resurgent heavyweights went toe-to-toe at the cavernous Nou Camp.
United had chances to be ahead at the break, most notably through Wout Weghorst, and fell behind five minutes into the second half when former Chelsea defender Marcos Alonso headed home a corner.
Rashford responded emphatically with a superb 22nd goal of the season and then sent over a cross bundled into his own net by Jules Kounde, who escaped a red card for a challenge on the forward shortly after.
It was a let-off Barca capitalised on as former Leeds favourite Raphinha's cross found the net to seal a 2-2 draw that sets up a fascinating second leg at Old Trafford next week.
"If you face number one of Spain in an away game and you are the dominant team, you can see this as a positive," United boss Ten Hag said.
"We should have won this game so we have steps to go.
"But I think it was two good teams, the highest level. It was enjoyable to watch.
"But I think everyone agrees it was a really high performance level from both teams and I was really happy with our performance, to face this strong team."
Ten Hag said United created up to seven "100 per cent chances" that they clearly had to "finish more" of on a night when the Red Devils boss could not believe Kounde avoided a red card for bringing down Rashford.
"So, the criticism is (be) more clinical, finish chances and that is what we didn't do," the Dutchman said.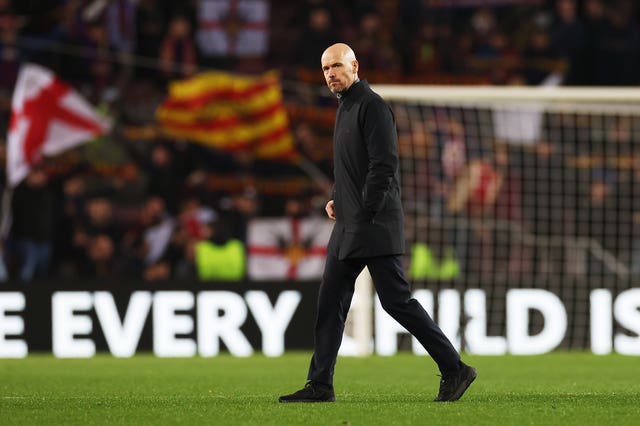 "Because in such a game, we created many chances. You can't expect actually but we did.
"Then it's a little bit disappointment that you didn't score them. And I think we should have scored minimum four goals tonight.
"Also I have to make that point, I think it's a big influence not only on this game, but on this round (that) it was at 2-1 a clear foul on Marcus Rashford.
"You can discuss if it's in the box or outside the box, but definitely it's a red card."
Ten Hag was booked by referee Maurizio Mariani for his angry remonstrations and was perplexed as to why VAR Massimiliano Irrati did not intervene.
"I asked the referee why, so he said it was outside the box and was no foul," the United boss said.
"I think the linesman and referee were in a very good position to see and we have the VAR, so I think it's not good. It was a really bad decision and I can't understand.
"Maybe they were impressed by the pressure Barca made but that can't be on the highest European level."
Barcelona boss Xavi was also frustrated by some of the officiating on Thursday, claiming his side should have had a late penalty for a Fred handball.
"I believe this was a clear fault and a clear penalty, the second one, so how do you want me to feel? It happened the same in Milan in the Champions League," he said. "Today, the same again.
"So, what do we have to do in order to be entitled to this penalty?
"It has been clear, and I believe it's been checked. For me it's quite incredible what has happened."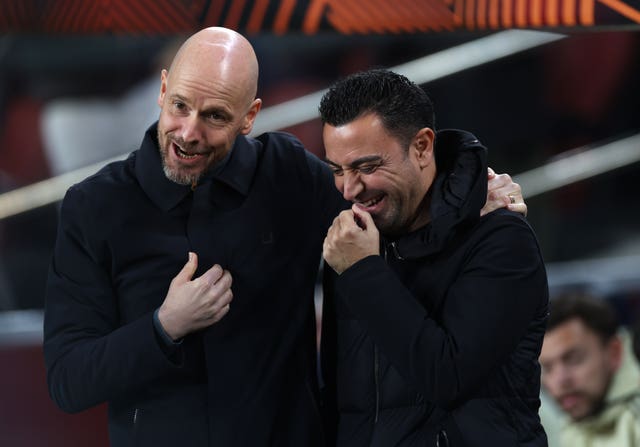 Ten Hag and Xavi both ended the match peeved with the officials on a night that sets up the second leg brilliantly.
"We played against one of the best teams in Europe, with a top coach," the Barca boss added.
"OK, we didn't win and I'm not going to start talking about making great progress because we could still go out next week but I'm satisfied with how we've competed in this match."