Tottenham have been told to take control of the "crisis" engulfing the club by its supporters' trust.
Spurs' season was thrown into further chaos on Wednesday when it was revealed managing director of football Fabio Paratici's ban in Italy had been extended worldwide.
Paratici was handed a two-and-a-half-year ban from the game in January after his former club Juventus, where he worked for 11 years, were found guilty by an Italian court of false accounting.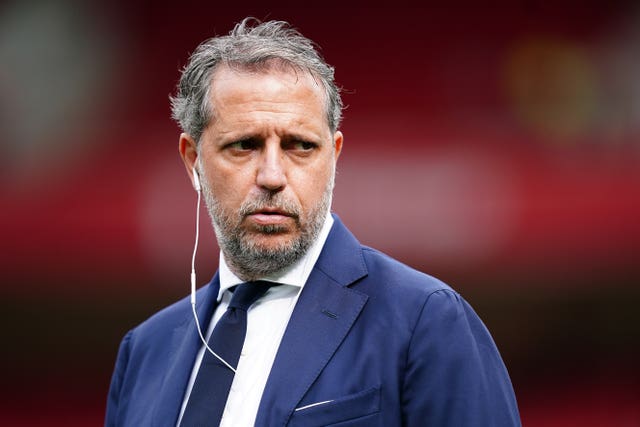 While Paratici's suspension initially only prevented him from working in Italy, FIFA's extension of the Italian FA's (FIGC) ban will restrict him from fulfilling his duties at Tottenham.
Spurs confirmed they were "seeking further clarification from FIFA" and pointed to the fact an appeal had previously been launched with FIGC Federal Court of Appeals, which is set to be heard on April 19, but days after the departure of Antonio Conte, the board has been urged to show leadership.
Tottenham Hotspur Supporters' Trust board member Martin Buhagiar told the PA news agency: "It is one drama after another, one mess and one crisis after another.
"It is really worrying because the lack of leadership there is becoming a real concern for Spurs fans now.
"We've known for months that Conte is leaving and no one at any point thought he would stay beyond the summer so that started it, because you've got Conte leaving but there doesn't appear to be a Plan B. We've gone back to interim managers again.
"For me it shows really poor forward planning and that is the issue at Spurs. We have no first-team coach, no women's coach, our director of football has been suspended and just before his suspension is endorsed worldwide by FIFA, they get him to send out a video talking about Conte.
"It is just about leadership. You need someone to stand up and say enough of this.
"It is identifying what that strategy is and standing up and offering leadership and being clear on the vision of the club."
Spurs defended their decision to allow Paratici to appear on club channels on Tuesday night and insisted they only received written notification of FIFA's decision on Wednesday afternoon, but it was January 20 when the experienced Italian was first given a 30-month ban from football.
This was after the FIGC handed out punishment to Juventus and various other individuals following the investigation into capital gains violations.
While Paratici has not sat by the dugout – as was previously the case – since the verdict, he has continued to be a key figure in transfers and contract negotiations at Spurs.
He was also drawing up a list of candidates to replace Conte, but that could now be shelved as FIFA's extension of the Italian FA's sanctions should stop Paratici from taking part in all football-related activities, the PA news agency understands.
THST board member Buhagiar added: "We know Fabio is innocent until proven guilty and we hope he is found not guilty. I am sure he will but it doesn't mean you don't do your due diligence and check to see if and when this decision by FIFA will happen.
"The club should have kept him in the background or put him on gardening leave (in January) to take him away from the firing line.
"That coupled with the fact we knew Conte was leaving in the summer and he has gone now but given they must have known he was going anyway, since January what have they been doing?
"Bayern Munich have shown how a big club acts. They got rid of (Julian) Nagelsmann and within 24 hours they got (Thomas) Tuchel in because they've gone 'this is the way we run our club and do business'."
Conte's long-serving assistant Cristian Stellini has been tasked with guiding Tottenham to a top-four finish and will face the media on Friday ahead of Monday's trip to Everton.
Spurs do not play at home until Saturday week against Brighton and season-ticker holder Buhagiar can sense the growing disillusionment amongst the fanbase towards owners ENIC.
"I think there is a complete disillusion about the way the club is being run and I think this is the worst it has been," he said.
"Something has to change. Either the club has to change its strategy and the way it communicates with fans or something more severe needs to happen.
"The stadium is great, but there is no point having a brilliant stadium if you haven't got a footballing team you can be proud of."