Manchester City boss Pep Guardiola has expressed his concern about the demands on players in light of changes such as an expanded Club World Cup and more time being added on in games.
After winning the Champions League to complete their treble last term, City will compete in December's Club World Cup in Saudi Arabia – what is planned to be the final edition featuring seven teams, with the next a 32-side competition taking place in the United States in the summer of 2025.
Meanwhile, the significant increase in time added on seen at last year's World Cup in Qatar, designed to tackle timewasting, is something set to apply to Premier League matches this season.
Speaking ahead of his side opening their 2023-24 campaign with Sunday's Community Shield clash against Arsenal, Guardiola said: "I know at the end of next season, we are going to make a (Club) World Cup in the United States after finishing the season, two or three more weeks. That means the holidays will be 15 days or maybe three weeks.
"I think it doesn't exist already, pre-seasons. The problem is here (touching his head) – exhausted. Look already how many players are injured in pre-season, in bad conditions, humidity, hot, the pitches are not really good, especially in the States.
"It is what it is, so we have to adapt, adjust – but it is not normal.
"Now, for example, every game we're going to play for 100 minutes. Wasting time – from my point of view it is not going to be solved by extending 10 more minutes. It's more tiring for the players. It's too much.
"FIFA, UEFA – more competitions. The World Cup – more teams. This (Club) World Cup – I don't know how many teams.
"I don't know what (is going to happen) in the future, for the players, even the managers, to prepare. That's why you have to see exactly how much you demand of the players.
"Every day, season by season, it's difficult to handle for the players. They love to play but they need also recovery, with the stress and tension they have. They make a show like they do in front of 55-60,000 people – that is a lot of energy, mental energy, and every week, to do it, is a lot.
"But every year is getting worse and worse, and will be worse. I don't know how it is going to end, honestly."
As City prepare to hunt down further silverware, Guardiola has stressed the need for a game-by-game approach in which they "respect incredibly the opponent, do our best to win in the way we believe is better – and after we will see".
And he added: "I would say honestly we are closer to not repeating the treble than winning it, we are closer to not winning the Premier League than winning it. And no team ever won four in a row.
"Last season – I didn't start thinking we are going to win the treble. We started, 'let's go to try to win (the Community Shield) against Liverpool' and we lost 3-1.
"And after (that) we won and step by step, good moments. Normally we arrive (in the last few months of the season) in a good mentality and shape, and this is what we are going to try to do again."
June's maiden Champions League triumph for City added to five league titles, two FA Cups and four League Cups they have won since Guardiola took charge in 2016.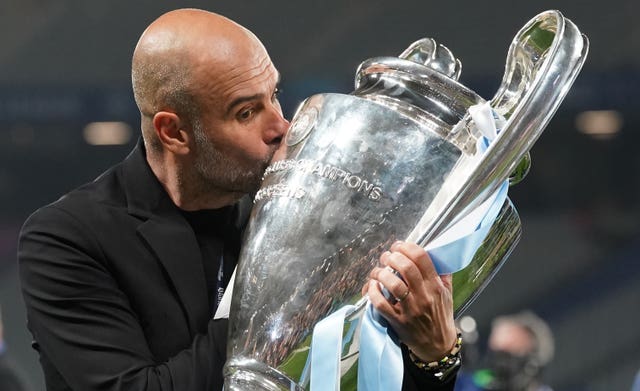 The Catalan signed a new contract running to 2025 last November, and when asked if he had thought at all about leaving after securing the treble, he said: "I signed a contract because I feel comfortable.
"Nothing changed, for the fact of win or not win. It is how I am happy, and the people is happy, the board especially, the hierarchy, because in the end they decide which manager has to lead this group of players. If they are satisfied, I still am satisfied.
"I want to defend what we won and year by year, maybe at the end of the season I am tired, or I say we will talk with the club, or maybe extend more, I don't know."