Nottingham Forest boss Steve Cooper praised young musician Caiden Storry after he could not complete the Last Post ahead of the 2-0 win over Aston Villa.
Storry was consoled by both sets of players and Cooper, before being given a standing ovation by the City Ground after failing to finish the famous tune that marks Armistice Day celebrations.
Cooper says the club will reach out to the 16-year-old, who is a Forest fan, and said everyone was proud of him.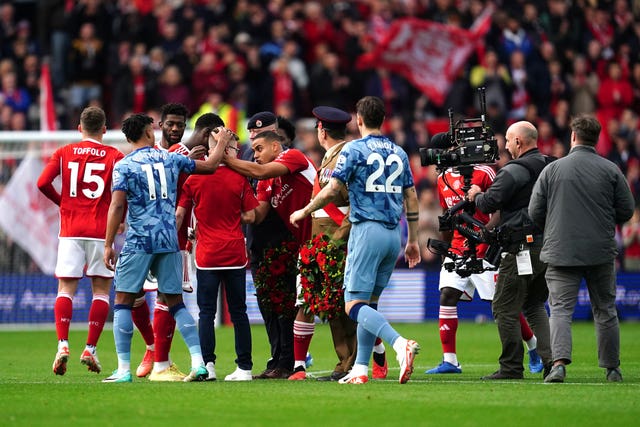 "I've got a 15-year-old boy and I love it when he shows confidence to do things because it isn't always easy in this era we live in," Cooper said.
"For a 16-year-old boy who's a fan to stand in the middle and do that and do it brilliantly as well, he should be really proud and we are proud.
"To see how both sets of players responded, because they have to perform and they know what it's like.
"It was a really important moment and I thought everyone came together in what is always a poignant moment anyway.
"I managed to have a word with him and we will try and reach out to him and bring him to the training ground and I want him to meet the players so he knows how good he was.
"I told him I was proud of him. He said, 'I'm sorry about that,' and I said, 'What for? Everyone is really proud of you'.
"The Villa boys were excellent and the City Ground was what it was, what we have got, which is unique, we have to keep it going because when things don't go quite right, let's look to support each other.
"The fans and players did a brilliant job, Caiden did a brilliant job today and I'm really proud he delivered that for us."