Goalkeeper Courtney Brosnan is certain her grandparents would be beaming with pride had they had lived long enough to see her play in the Republic of Ireland's World Cup debut.
The Girls in Green kick off their campaign against tournament co-hosts Australia at 1100 BST in front of a sold-out crowd at Stadium Australia after demand forced organisers to relocate the meeting to the competition's largest venue.
The Everton keeper is eligible for the Republic through her paternal grandparents Margaret and Brendan, who were born in Roscommon and Kerry but later emigrated to the United States, where Brosnan was born and raised.
Asked how she balances her dual identities as a New Jersey native pulling on a Republic shirt, Brosnan said: "I think it's amazing. I feel like it's really special because I feel like I'm able to learn so much about my family.
"They've both passed on now, but I think it's just amazing for me to see.
"Like I know how close my dad was with them as well, and to be able to play for Ireland and still have that connection to them, even if they're not here, it's really hard to put into words how special that is.
"It just gives me an amazing chance to see all the different parts of my family history. They passed away when I was 15, 16, but growing up it was weekend trips all the time, and we were really close.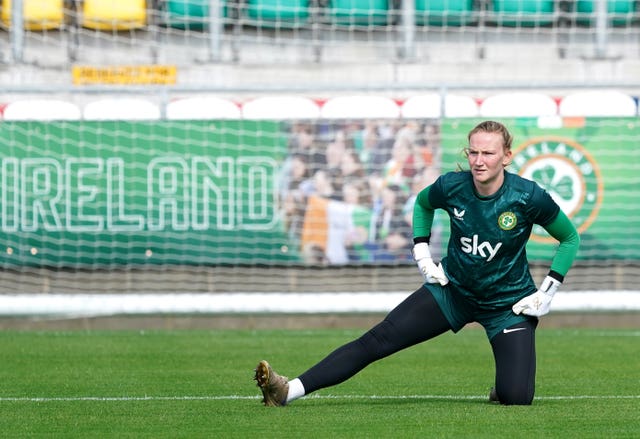 "They were from a place called Springfield, Massachusetts and they grew up there when they came over from Ireland. They lived in the same house their whole life, so it's pretty cool."
Brosnan posted five clean sheets in World Cup qualifiers, and also denied Real Madrid's Caroline Weir the vital first-half penalty that would have given Scotland a 1-0 lead in their World Cup play-off to decide which team would make the tournament.
Instead, Brosnan's save allowed substitute Amber Barrett to swoop in after the restart and score, her goal enough to ensure the Republic would win 1-0 and seal the momentous result.
She said: "Me and Amber laugh because people will come up to her and say, 'Oh, you're the best goalkeeper I know' and people will come up to me and say, 'Oh, what a finish!' and I'm like, 'Ok, I know we both have red hair but we are different people!'"
More people will surely tell the difference after the Republic walk out at Stadium Australia to begin the next exciting chapter in their history, before facing Canada and Nigeria to conclude the group stage.
Brosnan added: "I think it's a really, really special moment that we're able to take part in.
"This is something we've always dreamed of, then there's the added bonus that you're playing the host nation, that the crowd's so big, that this is our first World Cup.
"We've discussed really openly about how we know the quality of the group that we're in and the competition is really fierce. I think that underdog-ness is part of being Irish, that you love that challenge and stepping up, facing a big dog and showing what you're capable of.
"We're not just here to take part. This is something we've been working for for years and years. We're doing everything we can to put ourselves in the best position to get results."
(function(i,s,o,g,r,a,m){i['GoogleAnalyticsObject']=r;i[r]=i[r]||function(){
(i[r].q=i[r].q||[]).push(arguments)},i[r].l=1*new Date();a=s.createElement(o),
m=s.getElementsByTagName(o)[0];a.async=1;a.src=g;m.parentNode.insertBefore(a,m)
})(window,document,'script','//www.google-analytics.com/analytics.js','ga');
ga('create', 'UA-72310761-1', 'auto', {'name': 'pacontentapi'});
ga('pacontentapi.set', 'referrer', location.origin);
ga('pacontentapi.set', 'dimension1', 'By Rachel Steinberg, PA, Brisbane');
ga('pacontentapi.set', 'dimension2', '8e486224-7dda-42d6-a2c5-2fcf679d8709');
ga('pacontentapi.set', 'dimension3', 'paservice:sport,paservice:sport:football,paservice:sport:uk');
ga('pacontentapi.set', 'dimension6', 'story');
ga('pacontentapi.set', 'dimension7', 'composite');
ga('pacontentapi.set', 'dimension8', null);
ga('pacontentapi.set', 'dimension9', 'sport:football');
ga('pacontentapi.set', 'anonymizeIp', true);
ga('pacontentapi.send', 'pageview', { 'location': location.href, 'page': (location.pathname + location.search + location.hash), 'title': 'Courtney Brosnan says playing for Republic gives her u2018connectionu2019 to family'});