RANGERS CAN WIN IT
I firmly believe Rangers can win the Europa League final against Eintracht Frankfurt.
There is nothing to fear from the Germans, and all the bookies odds or pundits' claims about the strength of the Bundesliga have now been well and truly shot down by an Ibrox outfit that has swept aside better quality than the Europa League opponents they are about to face in Seville later this month.
It is hard to believe that nine years ago a Rangers side had only the Third Division title in their sights rather than European glory, but the long road back now has the supporters dreaming of lifting a trophy in Spain 50 years after they managed it in Barcelona.
If Steven Gerrard created a foundation of how to play European football, Giovanni van Bronkhorst has taken it on to another level. Rangers, in a short space of time, have restored their pedigree on the European stage, so much so that clubs no longer look at them as cannon fodder for three points in any group stage match. Home or away, you always feel they can score and grind out a result.
The disappointment of going out of the Champions League to Malmo was quickly forgotten about when Rangers started off with a Europa League win over Alashkert back in August. Brondby, Sparta Prague, Borussia Dortmund, Red Star Belgrade, Braga and RB Leipzig have all tasted defeat at Ibrox or in their own backyard.
Now, as the clamour for tickets reaches fever pitch, Rangers fans have their own Seville to talk about. Just to be able to say I was there will be enough for many supporters, but to say I was in the stadium watching James Tavernier lift the Europa League trophy is now a real possibility.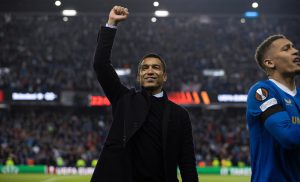 GOODBYE TO THE BROONY
The announcement was quiet, dignified and respectful of all the people who had helped him along the way to achieving his dreams of playing football and winning trophies.
There was no grandstanding with one last hurrah in front of adoring fans. Not even one last battle in the middle of the park with opposition midfielders. There was no stage to stand open armed in celebration of one last goal. There wasn't even a referee to argue with over his decision to retire!
This was a man leaving the stage quietly with a simple message of heartfelt thanks and gratitude for a career that delivered 10 league titles, 6 Scottish Cups and 7 League Cups. Exit stage left, Celtic legend Scott Brown.
I'm sure Scott would have loved a little bit of aggro and success in his final days at Aberdeen, but sadly for him all the qualities he displayed as a player were in short supply in the majority of teammates wearing red up at Pittodrie.
The best memories for one of the most divisive characters in the game over the last 20 years were played out in green and white. He may not go down as one of the greatest midfielders to ever play for Celtic, but he will be remembered with love and affection by a generation of supporters who watched him wallow in a period of Celtic dominance in domestic football.
The perception and reality of the man they called Broony is stark, for me. On the field, he was the man many opposition fans and many players loved to hate. He was a winner who made it his mission to wind-up as many people as he could in his quest for success.
Off the field, you couldn't meet a kinder person who would go out of his way to help people regardless of their allegiance in Scottish football. He was patient, funny and still retained the devilment of a kid happy to be involved in any prank to get a laugh with his teammates and friends.
I wish him well in his next step into management.